By Nirooshitha Sethuram
Reaching the Yamuna river, the fishermen village, Devavrata met Satyavati and her father Dashraj, the tribal fishermen chief. Devavrata spoke to them about his father's desire and the refusal due to the condition imposed by Dashraj. Dashraj emphasized again the importance of his daughter becoming the queen, saying that he didn't have any doubt that she would fit into that role beautifully. Also, he reiterated that her children should be the ones who would rule Hastinapura after King Shantanu.
Devavrata promised that he would give up the right to the Hastinapura throne, so that his father could marry Satyavati. Satyavati's father thought for a minute. Then he said that he was happy to see a son who is willing to give up the throne for his father's happiness, which had never been heard of in any kingdom. But he said that he was not sure that Devavrata's sons will give up the right to the throne as easily as their father. They may be as valiant as their father and therefore become a threat to his daughter and her children.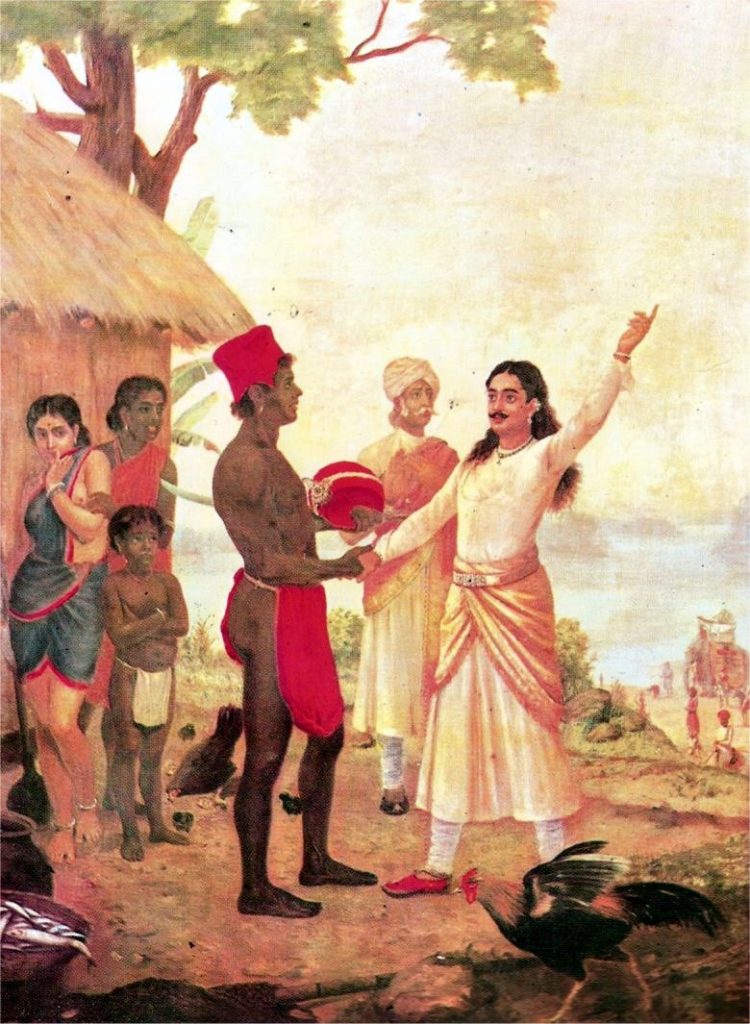 Hearing this, Devavrata, determined to fulfill his father's desires, unexpectedly took his knife out and cut his palm. He said, "I, Devavrata, with my blood, make a vow in my mother Ganga's name, that I will remain a brahmachari (celibate) for the rest of my life, and not produce any heir."
All the devas appeared in the sky and showered flowers on Devavrata for the unbelievable vow he had taken. Satyavati's father was speechless. After a while, he then said, "Devavrata, I truly admire your love towards your father. Taking a vow not to marry for the happiness of your father, I am flabbergasted. It has never been done before and I am certain it will never be done in the future too. I give my daughter in marriage to your father with honor. Please take her to your father at once." Devavrata was so happy. He set off to the palace with Satyavati in the chariot.
When King Shantanu saw Satyavati coming to the palace in Devavrata's chariot, he was overwhelmed with happiness. He praised his son for bringing his love to him. He hugged him with affection and blessed him with all his heart. Then he held Satyavati's arm and took her into the palace. Devavrata bowed down to his father and returned to his chambers with heart filled with joy that he could see his father happy again.
King Shantanu was anxious to know how Satyavati's father had agreed for their marriage. So, at the first chance he got, he asked from Satyavati, what transpired between her father and Devavrata. Satyavati told him the complete story, and when she finished it, the king was shocked beyond his limits. Understanding the extreme severe vow his son had taken to make him happy, he felt giddy. He passed out, in such grief that he had never felt in his life before, uttering the words, "Ek Bhishma Pratigya!" meaning, a most dreadful pledge.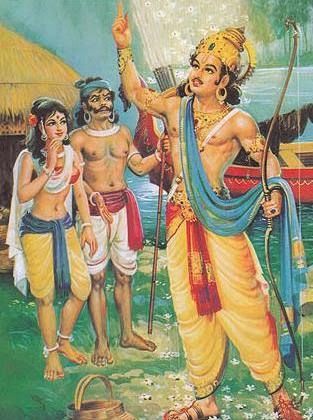 All the Devas appeared in the sky and called out, "Bhishma! Bhishma! Bhishma! Blessed Devavrata," and said that going forward Devavrata will be known as Bhishma. They also gave him a boon that he could decide the time and place of his death. From that day onwards, Devavrata was called Bhishma! Only then did Satyavati come to understand the seriousness of the situation that her father and she had created for the throne of Hastinapura .
As everyone knows, time is the great healer. So, in time, Shantanu and Satyavati were reconciled to what happened. In due course, Satyavati had two boys. The elder was named Chitrangada and the younger was named Vichitravirya. Years passed and after Shantanu's death, Chitrangada was crowned as the king of Hastinapura, but he didn't last long. Though he was a great warrior, he fell in a battle a short time later. The king of the Gandharvas, for his name's sake, came to challenge Chitrangada. A fierce battle took place between the two warriors which lasted a long time, but in the end the king of the Gandharvas defeated Chitrangada and killed him. This made the Hastinapura throne vacant. Though Vichitravirya was a minor, he was crowned to be the ruler of Hastinapura. As Bhishma promised to Satyavati, that he would protect the throne of Hastinapura and treat whoever sits on it as his father's image, he served the king faithfully. Bhishma became the Guru and guardian of Vichitravirya. Unfortunately, Vichitravirya grew up to be a person who was not physically strong and lacked qualities to be a true king.
When Vichitravirya came to age, Bhishma and Satyavati were looking for a suitable bride for him. At the same time, the king of Kashi organized a Swayamvara, a groom selection event, for his three daughters, Amba, Ambika and Ambalika. He had invited all the eligible kings and princes from around his kingdom, but excluded Vichitravirya and Hastinapura due to an old grudge. This was considered an insult to Hastinapura.
Satyavati took this seriously and wanted Bhishma to go to Kashi to bring the princesses back to be wedded to Vichitravirya, as she thought they were the best fit for Vichitravirya. Bhishma argued against abducting the princesses during a Swayamvara, by using strength, even though it's a common practice among big kingdoms. He finally agreed to do what Satyavati wanted, as he also considered the Kashi princesses to be good matches for Vichitravirya. Also, disobeying the Queen Mother was unacceptable for Bhishma, as he had vowed to protect Hastinapura as its servant.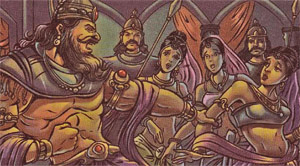 On the day of the Swayamvara, Bhishma stormed into Kashi and challenged all the participants for a fight. At the end, he seized the three princesses. Some of the eligible kings and princes in attendance didn't even think of crossing Bhishma's path, nor did the king of Kashi. They knew the power and valor of Bhishma. Bhishma was so daunting, none of them or their armies could mount a challenge to him. The only king who stood against him was King Shalva. But he was defeated badly. Therefore Bhishma forcefully brought all three princesses to Hastinapura without any major issues.
In Hastinapura, Satyavati and Bhishma ordered the formal wedding ceremonies, to wed the princesses to Vichitravirya. While the second and third princesses, Ambika and Ambalika, were agreeable and cooperating, the eldest, Amba, was not. She had already accepted the proposal from King Shalva of the Saubala kingdom and was in love with him. Amba was furious with the way things turned out, as she was sure the King of the Saubala kingdom would have been her choice in the Swayamvara. She brought this up with Satyavati and Bhishma, requesting them to send her to King Shalva. Advised by Satyavati, Bhishma immediately accepted her request and sent her to the Saubala kingdom with all honors and respects.
While Amba was on her way to the Saubala kingdom, her sisters were married to king Vichitravirya in an exuberant way. The whole of Hastinapura was in celebration mode; the singing and dancing went on for days.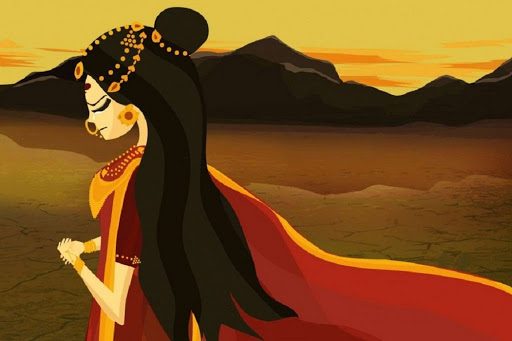 Amba reached the Saubala kingdom and announced that she was sent back by Satyavati and Bhishma to marry King Shalva. King Shalva rejected her saying that he no longer desired her, as she was to be wed to another man. He also said that she was rightfully won by Bhishma, who insulted him and the other kings and princes who were at the Swayamvara. Amba pleaded with Shalva, whom she considered as her true love, to accept her, but Shalva refused to accept her. Rejected and heart-broken Amba left the Saubala kingdom and went to the forest, not knowing what to do. She felt enraged and humiliated. She thought for some time, then headed towards Hastinapura .
Seeing Amba returning, Bhishma knew that the King Shalva had refused her hand. Seeing tragedy written all over Amba's face, his eyes emitting sparks, Bhishma, took his bow and quiver, asking her to come with him to the Saubala kingdom so he could teach the King a lesson and make him honor his love. Amba refused, saying that she could not go to the coward lover and that she could not go through that type of humiliation all over again.
So Bhishma went to Vichitravirya, asking him to marry Amba. He too refused, saying he was not willing to marry her because she had someone else in her heart. Amba was getting angrier by the minute due to what she was going through. Bhishma then asked Amba to go back to her parents in the Kashi kingdom. Amba refused, saying she was abducted, a humiliation to her father, thus she was sure that he would not accept her back. Bhishma tried to persuade her otherwise, but it didn't work.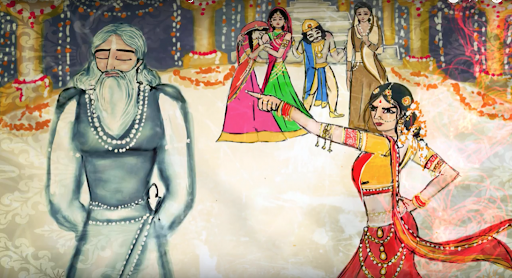 Her anger towards Bhishma flared up, burning like wildfire in her heart, as she had concluded that Bhishma was the reason her life was in a mess. She turned to Bhishma and said, "You are the person who came to my Swayamvara, and brought me here, therefore it is you who needs to marry me!" Bhishma refused immediately, saying he cannot do so due to his Vow! Driven to extreme desperation, Amba flew into a rage. With her eyes raging fire, she Vowed, "Bhishma! You are the cause for this utter hopeless state of mine. I will not rest until I take revenge on you!"
Amba decided to do severe penance dedicated to Lord Kartikeya, seeking his help to avenge Bhishma. Lord Kartikeya, delighted with her devotion, appeared in front of her and gave her an ever-fresh flower garland. He said that whoever wears this garland would become the arch enemy of Bhishma and be the cause of Bhishma's death.
Receiving the garland with satisfaction, Amba went to every single kingdom around, asking the kings to wear the garland to help her out. None of them were willing to do this, as they were too afraid to go against Bhishma. At last she went to the King of Panchala, Drupada, hoping he might agree, as he was not on good terms with Bhishma anyway. He too refused to wear the garland. Amba with a broken heart, frustrated, tired and exhausted, hung the garland on the palace door of King Drupada and went into the forest.
Amba marched into the forest and sought shelter that night with a group of ascetics along the riverbank. The next day, upon listening to Amba's ordeal, the sages advised her to approach the great Parashurama, Bhishma's Guru. Taking their advice Amba went to Parashurama at once. Amba conveyed her predicament to Parashurama and prayed to him for help. Parashurama gave his word to Amba that he would make Bhishma marry her or else would destroy him.
Parashurama went to the vicinity of Hastinapura and sent word to Bhishma to meet him. Parashurama tried to convince Bhishma to marry Amba, but Bhishma refused due to his vow. Parashurama called him out for a battle, but Bhishma said he would not battle his Guru. Parashurama said that if Bhishma refused the battle, it would be disobeying his Guru. Hearing this, Bhishma agreed to fight.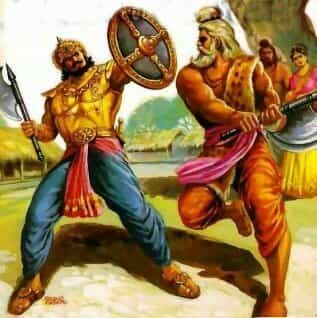 Thus, the battle between the teacher and the taught began. The battle was fierce, lasting for days without anyone emerging as the winner. With no way out, Bhishma took hold of the celestial weapon that Indra had bestowed on him, and Parashurama readied his great Parashu for the fight. Seeing this from far away, Mother Ganga prayed to Lord Shiva to stop the fight, as she knew that, if these weapons clash, it will lead to universal destruction. When both Parashurama and Bhishma used their weapons on each other, Lord Shiva appeared and absorbed both the weapons within him, answering Ganga's prayers.
Seeing Lord Shiva, both Parashurama and Bhishma dropped everything and worshipped the Lord. Lord Shiva returned the weapons to each of them and told them to stop their fighting.
Watching this, Amba worshipped Lord Shiva and requested a resolution to her ordeal.  Lord Shiva asked what she wanted.  She replied that she wants to end Bhishma's life.  Lord Shiva granted her wish, saying that she will be the cause of Bhishma's death, but it will only be possible in her next birth.  Amba accepted the Lord's words and walked away to end her life, so that she can be born again to fulfill her ambition of killing Bhishma.  Bhishma assures Amba, that he will one day, when the time comes, make her wish come true.  Her story will be followed in a later chapter.  Bhishma fell on Parashurama's feet, asking for forgiveness for taking up arms against him.  Parashurama blessed his disciple and returned to continue his meditation.
More to come…