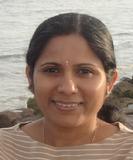 By Nirooshitha Sethuram
After the incident with Amba, with Parashurama's blessings, Bhishma returned to the palace. Life went on with Vichitravirya happily spending time with Ambika and Ambalika. Unfortunately, even after seven long years, Vichitravirya wasn't blessed with a child. Everyone was starting to get worried. Then, one dreadful day, all of a sudden, Vichitravirya became ill and passed away without leaving any heir to the throne of Hastinapura. This created a great problem for the kingdom. Bhishma was there to defend it and safeguard it from other kingdoms, but bound by his vow, he refused Satyavati's repeated requests to ascend the throne. Dishonoring his vow was something he could not accept; it would be the ultimate shame. Satyavati felt the brunt of it, as it was her doing or her father's doing that the kingdom was without a king or an heir. This was bad omen for sure.
Satyavati was trapped in a dilemma with no solution in sight, until one day she remembered her other son, the sage Dvaipayana. Also known as Vyasa, he had been born to her and the sage Parashara. As Vyasa had promised when he left to do penance in the forest, the moment she thought about him, he appeared in front of her. Vyasa had done a great many things since he last saw his mother. Satyavati cried as soon as she saw her long-forgotten son. Vyasa consoled her and asked what he could do for her to help her with her predicament. Satyavati told Vyasa the whole story and the situation with the vacant throne of Hastinapura. Vyasa promised his mother that he would not leave until the situation was resolved. Vyasa's words calmed Satyavati down. Vyasa offered that he would bless each of the queens with a boon, a son.
Satyavati was delighted that her problem was going to be solved. She called both Ambika and Ambalika the widows of Vichitravirya, to tell them that sage Vyasa will be giving them a boon of a son, and for them to go to him one by one. They were both astonished by this command from their mother in law. As mentioned earlier, Vyasa was already a less handsome person, and with all his penance in the forest, he was ugly and crude looking.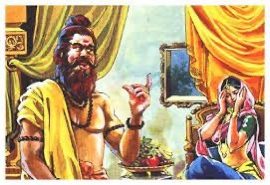 Ambika went in first, as she was the elder queen. Vyasa's looks frightened her, so she closed her eyes in horror while Vyasa was giving her the boon. He called Satyavati and told her that the son born to Ambika will be healthy, powerful, and have great physical strength, but will be blind because Ambika had her eyes closed.
Disappointed by these words from her son, Satyavati next sent the younger queen, Ambalika. Ambalika saw Vyasa's dreadful ugly face and turned extremely pale out of fear while he was giving her the boon. Again, Vyasa called his mother and told her that the son of Ambalika would be pale in complexion and likely to have illness all through his life, but that he would be brave. Satyavati felt awful and hurt.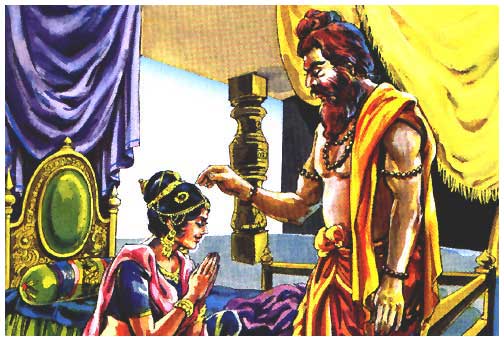 She requested her son to give one more chance to Ambika. She again sent Ambika to the sage. But Ambika was so afraid to see Vyasa again that, without her mother-in-law knowing, she sent one of her maids, Parishrami, disguising her in grand garments. Parishrami was fearless and greeted the sage humbly with respect & devotion. Vyasa gave her the boon and told her that her son would be talented, wise, artful, diplomatic and a great learned man. He also said that her son would free her from her life of being a maidservant. Just after this, Vyasa left Hastinapura. Satyavati doesn't come to know about this mix-up until later.
In due course, each of the three women gave birth to a son. Ambika's son was blind, and he was called "Dhritarashtra." Ambalika's pale son was named "Pandu" and Parishrami's son was named "Vidura." All three were brought up in the palace with all the training that a prince would get. Dhritarashtra, Pandu and Vidura were taught the fields of archery, politics, administration and religion by Bhishma and Kripacharya, the kula guru of the Kuru dynasty. As Vyasa had said, Dhritarashtra was hindered by his handicap, thus unable to wield weapons, but he had the strength of multiple elephants. Pandu was an excellent archer. Vidura was well balanced in weaponry and diplomacy. Vidura too was a great archer. The three of them grew up to be young adults.
Bhishma and Satyavati decided that it was time to crown the new king. As Dhritarashtra was the eldest, he was named to be the king.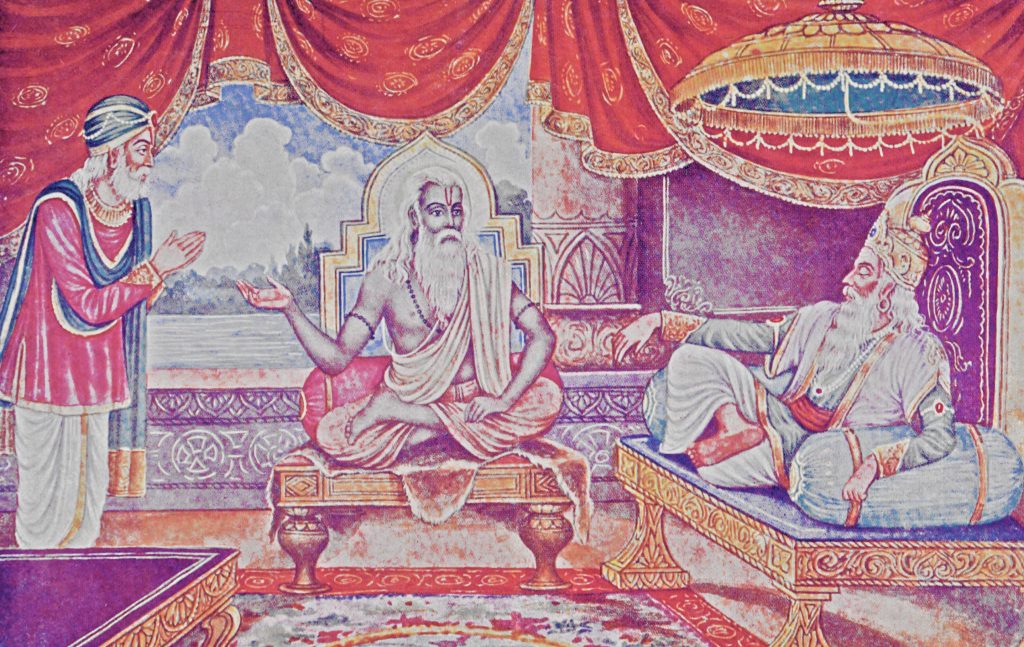 All his life Dhritarashtra dreamt himself to be a king. That consoled him from not being able to see. On the day of the coronation, Bhishma first appointed Vidura as the Chief Minister of Hastinapura, saying he is the best person for the position as he was very learned. Then Dhritarashtra was called upon to be crowned. Just then, Vidura, as the Chief Minister of Hastinapura, intervened to stop the coronation, saying that, according to the law, a blind person cannot be crowned as a king of a country as he will not be able to use the most important sense of all, sight. Sight is the most important sense to a person uses to dispense justice. When he was questioned about why he brought this matter up at the last moment, he said that he would have been the happiest person to see his brother Dhritarashtra crowned as the king, and therefore he would have not intervened in the matter. But since he has been appointed as the Chief Minister of Hastinapura, his duty was not to let something against the law take place in the kingdom.
Dhritarashtra stormed out of the royal court, and accused Pandu and Vidura of conspiring against him, as Vidura suggested that the next in line be crowned, which was Pandu. Pandu was heartbroken as he loved his elder brother, Dhritarashtra, more than anything in the world. He loved him so dearly that it was so hard for him to take his place, especially without his blessings. Since there was no other way, Pandu agreed to be crowned and rule the kingdom. Dhritarashtra's enmity for Pandu grew day by day as he saw him on the throne, thinking the kingdom was robbed from him by his brother. But there was nothing he could do.
Time passed, and it was time for them to get married. Dhritarashtra was looking forward to getting married so that he could see the world through his wife's eyes and that there will be someone he could completely trust. Bhishma and Satyavati thought that Gandhari, the princess from the Gandhara kingdom, daughter of king Subala and his wife Vasumathi, would be a good fit for Dhritarashtra. Gandhari was the most beautiful woman in Bharatvarsha. She had worshipped Lord Shiva and gained the boon that she could have one hundred sons. This was indeed one of the reasons why Bhishma and Satyavati wanted her to be married to Dhritarashtra. Gandhari's brother was Shakuni, who loved her very much and would not let anything bad happen to his beloved sister.
Bhishma visited king Subala and forced him to agree to the marriage between his daughter and Dhritarashtra. Everyone feared Bhishma so it was not any different in the case of king Subala. To avoid a war with Bhishma and to strengthen his kingdom, king Subala agreed to the marriage, knowing Dhritarashtra was blind. Gandhari was happy that her parents had found her a suitable groom, though at that point she didn't know that Dhritarashtra was blind.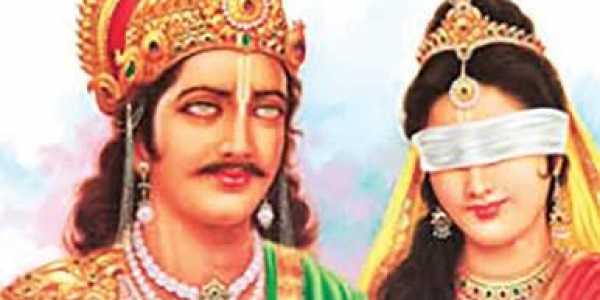 Gandhari's brother Shakuni was not in the kingdom when the agreement between Bhishma and king Subala took place. When he returned to Gandhara and heard about the arrangement, he was furious with his father. As he was so protective of his sister, he couldn't bear the thought that his cherished sister was getting married to a blind man. During the argument with his father, Shakuni took a dagger and inflicted a wound to himself, saying he will remember the injustice to his sister, in every moment in his life. On that day, he vowed that his only goal was to bring down the kingdom of the Kuru dynasty and make Bhishma pay for his arrogant way of getting his sister into a marriage to a blind person. Gandhari, overhearing the argument, came to know that her husband-to-be is blind. Instantaneously she made a vow that she will only see the world the way her husband sees it. Sacrificing her sight by blindfolding herself with a piece of cloth, she vowed never to take it off.
The wedding of Gandhari to Dhritarashtra happened in a grand way. At the wedding Dhritarashtra found out about his wife's vow of blindfolding herself for the rest of her life. Dhritarashtra was furious, in disbelief that his dream of looking at the world through his wife's eyes has been smashed into pieces. He didn't give Gandhari proper respect for a long time, as he was thinking she deceived him. With time as the healer, they made amends and carried forward with their lives.
After the wedding of Dhritarashtra and Gandhari, Bhishma and Satyavati started looking for a suitable wife for Pandu. Shurasena's daughter, Pritha, came up on the top of the list. Pritha was better known as Kunti as she was brought up by Shurasena's childless cousin, Kuntibhoja. Krishna's grandfather, Shurasena, gave his daughter to Kuntibhoja to be brought up as his own. Therefore, Kunti is indeed Krishna's aunt, his father Vasudeva's sister.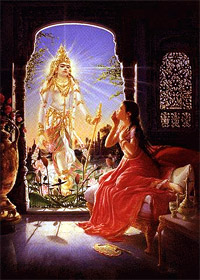 Kunti was a very beautiful, humble, down to earth, intelligent and a straight-forward person. But she had a secret buried deep within her, known only to her and one of her maids. From her youth, Kunti had great respect towards the sages and rishis. Once she was serving and looking after sage Durvasa when he visited her father. Sage Durvasa was very pleased with Kunti's care and devotion for him, so he blessed her with six mantras which she could use to invoke a particular God for each mantra. The God would then bless her with a child with the God's characteristics. After the sage left, out of childish curiosity, Kunti uttered the mantra for the Sun God, to test the authenticity of the mantras. Immediately the Sun God appeared in front of her. Astonished by his presence, she didn't know what to do. She was happy that the mantra worked, and the Sun God was in front of her, but she also knew what was coming next. The Sun God blessed her with a baby boy. Kunti pleaded with the Sun God, saying she uttered the mantra by mistake, and to relieve her from having the baby as it will be a taboo to have a child without getting married. The Sun God refused, saying once the mantra is used, there is no way to take it back. But he blessed her that, by having the baby, she will not lose her virginity.
The baby boy was born with the brightness of the Sun God himself. Also, the baby was born with a set of golden earrings and a sacred armor attached to his body. Out of fear of the public, Kunti, with a heavy heart, decided to abandon the child. With the help of one of her trusted maids, she placed the baby in a basket wrapped with one of her sacred cloths and set it afloat on the waters of the Ganga river. Even though the baby floated away, the guilt stayed in Kunti's heart forever.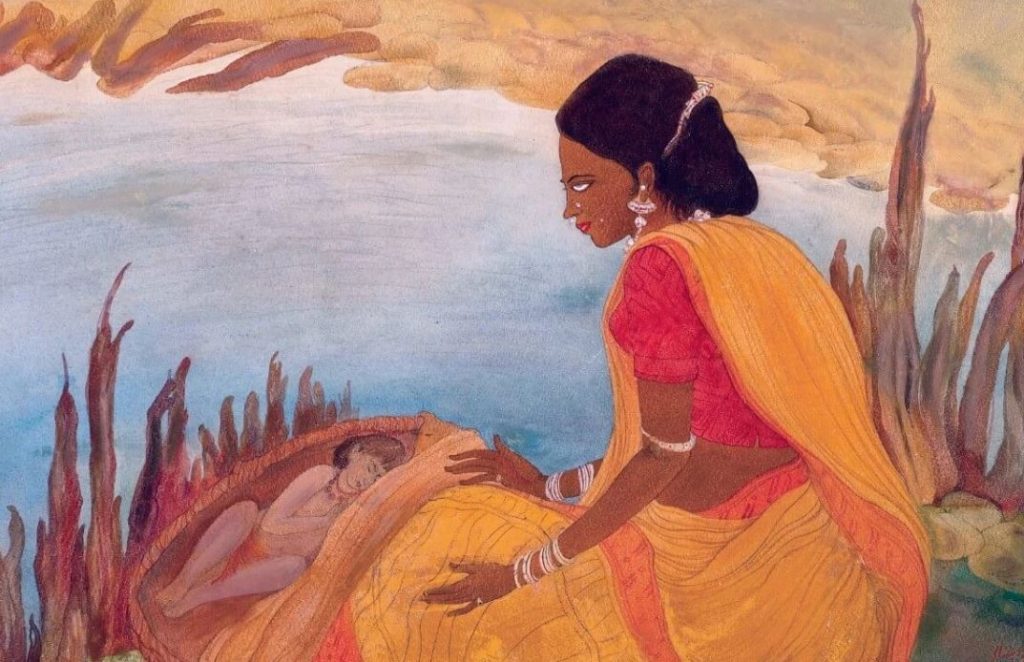 The basket with the baby floated downstream and reached Hastinapura.  A charioteer named Adhiratha and his wife Radha found the basket with the baby.  They longed for a child so they started bringing up the baby as their own.  They thought it was a blessing for them from the Gods and told nobody about their finding.  Even though he was lovingly named as Vasusena by his foster parents, he was mostly known as Karna because of his golden earrings.  The rest of Karna's story will come later. Pandu and Kunti were wedded, making Kunti the Queen of Hastinapura.  When the couple came to Hastinapura after the wedding, Dhritarashtra was not there to welcome them due his grudge against Pandu, but Gandhari was there with a smile to welcome the newlyweds.  Gandhari continued to be a big sister for Kunti.  Pandu ruled Hastinapura and started expanding his kingdom.
More to come…