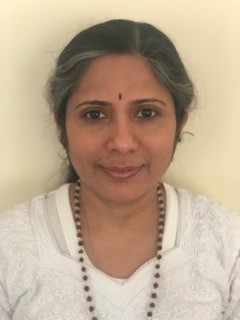 By Nirooshitha Sethuram
Guru Drona continued training the Kuru princes in his forest ashram after the episode with Ekalavya. Now we return to Vasusena, better known as Karna. While he was the adopted son of the charioteer Adhiratha and his wife Radha, he was the first born of Kunti, before her marriage. Yet no one, including Kunti, Karna and his foster parents knew who he really was. Kunti didn't know that Karna was the baby she let afloat on the river, and Karna didn't know that Kunti was his birth mother.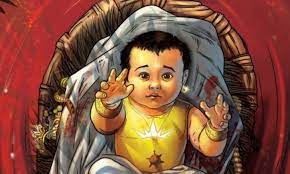 Karna was known by this name due to his birth with golden earrings attached to his ears. All through his youth, Karna was very interested in archery, and was very good at it, probably because of his genetic factor. The bond between Karna and his foster parents was one of pure love and affection. Yet they never approved of his interest in archery as it was something a charioteer's son should not pursue in those days. Karna got into arguments with his parents because of this, many times. One day he was sick of his parents suppressing him from what he is good at, archery, so he left home. He went to many teachers, but all declined to teach him because he was not a kshatriya, meaning that he was not a royal or from the warrior class.
He was very disappointed but continued to search. He heard that the Kuru princes were being trained by Guru Drona. Karna went there and asked Guru Drona to accept him as his student and teach him archery. After asking who he was, Guru Drona refused to teach him for the same reason. They got into a quarrel. Karna questioned Guru Drona how he, not being a kshatriya, had the exception of learning archery. Drona explained that his Guru, Parashurama, taught these arts only to brahmin sages. At the end, Karna challenged that he would prove that he was better than Drona's best pupil, Arjuna. Before leaving, Karna showed off by demonstrating the archery skills he already acquired on his own. It proved he had great skill with his bow and arrows.
Karna decided to get Parashurama as his Guru. Since Parashurama only taught the art of war to brahmins sages, Karna disguised himself as a brahmin sage. Arriving at Parashurama's ashram, Karna asked Parashurama to teach him the art of archery, saying he was refused by all the teachers as he wasn't a kshatriya. Parashurama said that he had retired from teaching archery. Steadfast in his motive to learn the skill he loved so much, Karna spoke kind words and tried to persuade Parashurama to agree. Due to the passion Karna displayed for archery, and due to the fact that Parashurama hated all the kshatriyas who had gone corrupt, he asked a final question, "Are you a brahmin sage?" With the greatest of hesitation in his heart, but with the greed for getting the knowledge of archery prevailing over the hesitation, Karna lied to Sage Parashurama, saying he is a brahmin sage.
Parashurama took him under his wing and taught him archery along with all other arts of war. In time, due to the respectful nature, obedience and the talent Karna displayed, he became very dear to Parashurama. Karna would do anything and everything for his Guru, never disobeying him. The years passed and the training was nearly at the end. Parashurama taught Karna to use the Brahmastra, the mightiest weapon of all. Karna was happy that his dream of mastering archery was becoming a reality.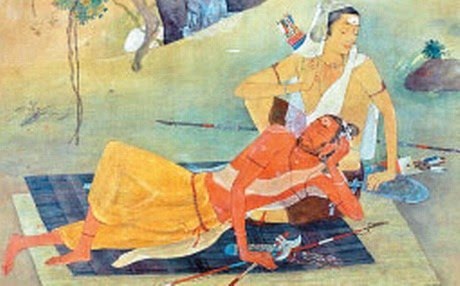 One day, Parashurama requested Karna to bring a pillow for him to sleep outside in the shade. Karna instead wanted him to use his lap as a pillow. So Parashurama was resting with his head on Karna's lap. While Parashurama was asleep, a huge bug came by and bit Karna's thigh. Despite the pain, Karna did not move as he didn't want to disturb his Guru. The bug bit deep into Karna's leg, making blood flow.
When Parashurama woke up, he saw the blood on the ground and the bug bite on Karna's leg. He realized at once that Karna was a kshatriya, as only a warrior could withstand such pain without moving. Karna came out with the truth, that he was the son of a charioteer, as he didn't really know that he was a kshatriya at that point. Though Parashurama was very upset with Karna, his love towards his best disciplined student stopped him from cursing Karna. But he says, as Karna had lied to learn the skills, he would lose the knowledge at the most needed moment in his life, and that he cannot do anything to change that fate.
Karna pleaded with Parashurama to show him a way to overcome such a fate. Parashurama was unable to help Karna but bestowed on him his personal bow called "Vijaya" (victory) and blessed Karna to have everlasting honor. Having blessed him, Parashurama commanded Karna never to return as he has lost his trust.
Karna left Parashurama's ashram with a very heavy heart. Being so disappointed with himself, he wandered around, hardly knowing where he was going. Suddenly an animal rushed past him. Without thinking he drew his bow and shot at the movement, killing the animal. When he went to the dead animal, a man shouted at him, angrily cursing him. "You have killed my poor innocent cow. For this sin, you will be killed when you are helpless to defend yourself, as my cow was!" Hearing this, Karna fell into a much more depressed state. As the fate seem to be against him, he went to the one person who loved him the most, the only person who could lift him out of his depression, his loving mother Radha.
Meanwhile in Guru Drona's ashram, the princes had completed their schooling in all the arts of warfare. Yudhishthira was very good with the spear, Duryodhana and Bhima with the "gadha" (the mace). Arjuna was the best archer, while Nakula and Sahadeva were wonderful swordsmen. Bhishma proposed to arrange a show to showcase the princes' abilities in all that they had learnt. Guru Drona gladly agreed to this, as he had full faith in his students. The day of the show was fixed, and the public declaration was made to mark the end of the princes' training. The public was invited to watch the talent of the princes. A special arena was built for the purpose of the royal games.
It was indeed a grand event to watch. A large number of people and the dignitaries of the Kaurava court came to witness the event. Dhritarashtra, Bhishma, Vidura, Gandhari and Kunti were seated in a special section. Other ministers and high officials were in an adjacent section. All other citizens were in staired seating all around the venue. Bhishma was eager to see how much each prince had achieved in the art of warfare. Separate shows were held in various skills where the princes displayed what they had learnt.
Guru Drona introduced Arjuna with pride as he is his valiant student. Without disappointing his Guru, Arjuna showed his extraordinary archery skills. He shot an arrow into the earth and created a fearful leaping fire out of it. The crowd were scared and screamed upon seeing this. Then he shot another arrow skyward and caused a heavy downpour which extinguished the fire. The crowd burst into thundering applause at the archery feats of Arjuna. In like manner, he showed other skills which spoke very highly of his matchless perfection in archery. He won the admiration of all.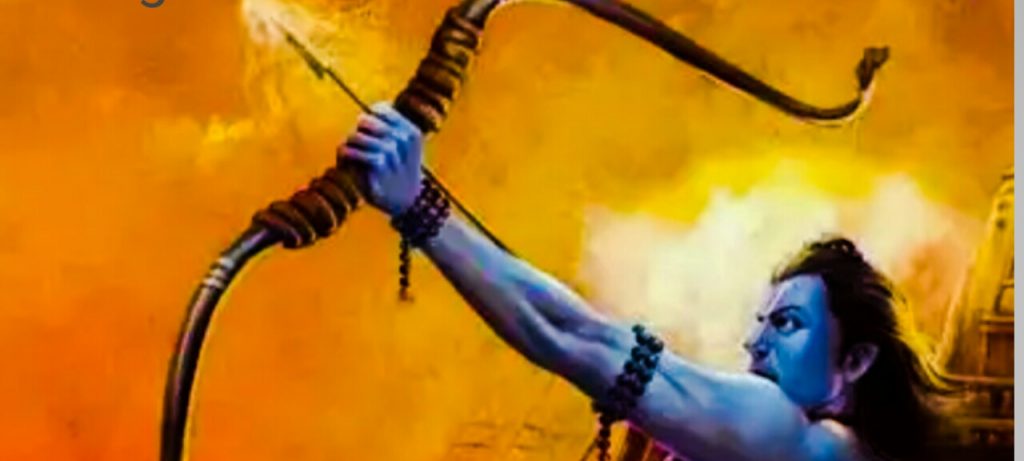 The next exciting event was the display of using the mace. Both Bheema and Duryodhana were very talented in the mace-wielding skills. They obviously had a feeling of bitter hostility between them. Duryodhana was jealous of Bheema because he had always proved superior to him whenever they came to clash. So, while showing their achievements in the art of using the mace they indulged in a real mace duel. Guru Drona sensed the hostility and signaled his son Ashwatthama to stop the fight. Ashwatthama lost no time in intervening to bring it to an end. With great difficulty he succeeded in pulling them apart.
In the meantime, Karna heard the news that the royal games were happening. He wanted to show his abilities to the crowd, though his foster parents were very much against it. After a lot of argument, he disobeyed them and rushed to the arena. Towards the end of the tournament, Karna arrived. Whenever he heard Arjuna being praised, Karna was beside himself with ill will and anger. Stepping into the arena uninvited, Karna thundered out a challenge, "Guru Dronacharya! You have praised Arjuna so highly and described him as matchless. I also want to show my archery skill for the public's comparison." All at the arena was surprise to see this young man, who shone with the brightness of the Sun God. Dronacharya wholeheartedly welcomed Karna to participate. Karna continued, saying, "I don't want child's play, I want a real combat with Arjuna to prove my superiority!"
Duryodhana's heart was filled with joy to witness what was happening. The crowd in the arena also got excited hearing Karna's invitation for a duel, which divided them into two groups, one supporting Arjuna and one for Karna. Kunti the mother of the Pandavas heard the commotion and looked at Karna. She immediately recognized Karna the son she left afloat in the river. It was very easy as she was quick to recognize the set of golden earrings and the sacred armor attached to his body. She fainted, unable to bear the sorrow of her older son inviting the other for a duel, due to ill fate.
At this point, the royal Guru Kripacharya intervened and asked Karna to declare his lineage, who his parents were and to which royal family he belonged. At first speechless, Karna revealed the truth about having been raised by Adhiratha, the charioteer of Grandsire Bhishma. Kripacharya rejected Karna's request, saying the show was for princes and not for sons of charioteers. Therefore, he was saying that Karna could not participate in it at all.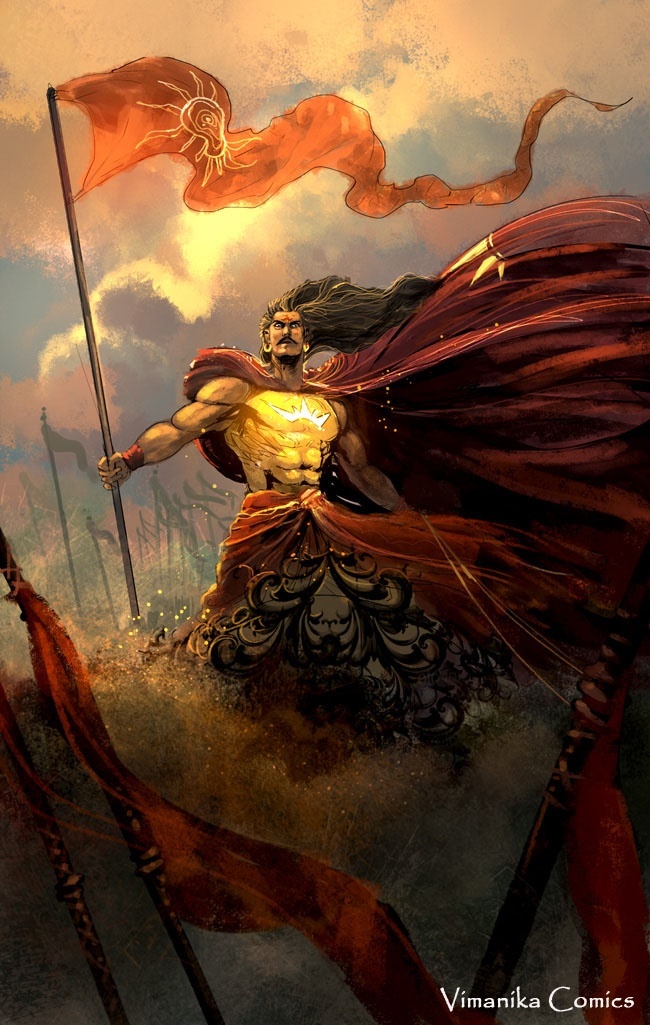 Duryodhana came to Karna's rescue and said, "Who says that Karna is not a prince? I declare him the ruler of the Anga Kingdom from this moment." Of course, King Dhritarashtra jumped in right away to back his son's wish, officially making Karna the King of Anga. Karna was so grateful to Duryodhana that he promised to guard him and his kingdom at any cost.
Just then, Adhiratha the charioteer came and embraced his son Karna. This made Bheema laugh at Karna, which caused Karna to feel very hurt. Duryodhana stood up for Karna once again. From that moment, Karna became the best friend of Duryodhana forever. Even though Duryodhana had a plan to use Karna as his weapon against the Pandavas, Karna wholeheartedly accepted his friendship and held Duryodhana in his heart until death. By the time this whole argument was over, the sun was about to set. By the rules, the show should be concluded.
Arjuna stood up and requested Kripacharya to allow him to say something.  With Kripacharya's permission, Arjuna said, "Listen Karna!  This world is full of warriors and all sorts of talented people.  They are too many to count.  No one should consider himself invincible, nor do I.  But by challenging me for a real battle, you have spoilt the spirit of this sporting event.  You have shown your arrogance rather than your archery skills.  I promise I will break your arrogant pride one day."  The audience gave out a loud applause for Arjuna words, which made Karna feel belittled.  Arjuna's fearless and well-guarded statement silenced Karna, who started repenting his tall claim.  With that, Bhishma announced the close of the competition, much to the disappointment of Duryodhana, Karna and all their friends.
More to come…