By Nirooshitha Sethuram
When Ganga took their eighth son to Indra's heaven with her, King Shantanu was very disappointed.  He returned to the palace deeply saddened, missing his sons and, most of all, he missed his beloved Ganga.  Hastinapur went into a gloomy period, as the king lost interest in everything and didn't pay much attention to the welfare of the country.  The ministers managed the affairs to the best of their ability but, as everyone knows, it was not the same as having a king managing the nation.
Almost every day, King Shantanu returned to the banks of the river Ganga, anticipating the return of Ganga and his eighth son.  A number of long years passed, with his grief growing worse each and every single day of those years.  One day, on his daily trip to the river, he saw a young, handsome adolescent boy playing, shooting arrows.  Shantanu was fascinated by the talent this young lad had with his bow and arrows.  He had built a dam across the river by shooting arrows into the river, blocking the flow of the water. Who could have such a great talent to be able to block the flow of Ganga?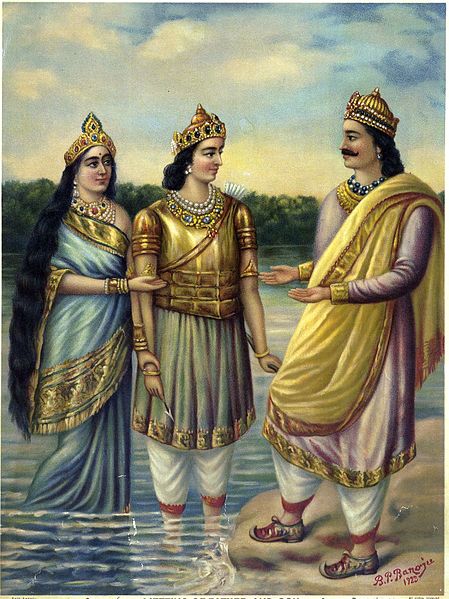 As Shantanu was watching the young man with awe, Ganga emerged from the river, saying that the young lad was his eighth son, Devavrata.  She had taken Devavrata to different realms where he was brought up and learned all the Vedas, arts of war and statecraft.  From Brihaspati, the guru for all the devas, he learned the duties of kings.  From Vasishta, one of the Sapta (seven) Rishis, he learned the Vedas.  From Shukracharya, the guru for all the asuras, he learned politics.  From Sanatkumara, one of the sons of Lord Brahma, he learned the mental and spiritual sciences.  From Markandeya, one of the immortals who had acquired the everlasting youth from Lord Shiva himself, he learned the duties of a man.  From Parashurama, one of the immortals and the sixth Avatar of Vishnu, he learned the art of warfare.  Finally, Indra, the king of the devas, bestowed celestial weapons on him.
King Shantanu was delighted to have Devavrata, his eighth son, back home.  He tried to convince Ganga to stay with him, though he knew it was not going to happen.  But in the end, he had a suitable successor to his throne.  He returned to the palace, accompanied by Devavrata.  At getting his son back, Shantanu's joy knew no bounds.
Within a day of Devavrata's arrival, King Shantanu ordered his ministers to arrange a grand celebration welcoming his son.  The day after the celebrations, King Shantanu called his court for a meeting and declared Devavrata as the Crown Prince of Hastinapura.  The whole of Hastinapura was thrilled and jubilant.
Devavrata was a very courageous and valiant young prince.  He had no fear about anything.  One day when he was training a new horse, he rode the horse a fair distance, from Hastinapura to one of the kingdom's borders.  There he saw the neighboring Salva king and his army marching to invade Hastinapura.
Devavrata challenged him single-handedly and put Salva's army to a decisive defeat.  Devavrata captured Salva king and brought him to his father, King Shantanu.  King Shantanu was very happy and proud of his son.  Yet his thoughts were still with Ganga.  He missed her very much.  It made him sad.  On most days,  he went out on his own, riding in the countryside in hopes of seeing her again.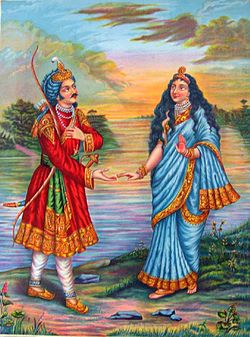 A few years passed. Hastinapura was back to its glory days, flourishing because Crown Prince Devavrata stepped in for the king most of the time.  One day, when King Shantanu was riding in his chariot along the river Yamuna, he smelled a heavenly fragrance unlike anything he'd ever smelled before.  He searched for the source and found it to be an extremely beautiful young lady.  He asked who she was.  She replied that she was Satyavati, the daughter of the tribal fishermen chief, Dashraj.
Who is Satyavati?  There once lived a King named Vasu, a very pious and truthful King who was married to Queen Girika, a devoted wife.  By his intense penance towards Lord Indra, Vasu gained Indra's eternal friendship, and the gift of an evergreen garland and an aircraft to travel to the heavens.  Thus, he received the name Uparichara Vasu (Upward-Going One).
On one of his hunting trips, while he was resting under an ashoka tree, the cool fragrant breeze from the leaves and the sound of singing birds provoked his lust and a longing for his wife.  A wave of passion heated him, and he couldn't restrain his physical response.  The thought of wasting his semen bothered him, so he collected it in a leaf and called upon a hawk to carry it quickly to his beloved queen.  While carrying the leaf with the semen, the hawk was seen by another hawk who misunderstood the leaf to be food, so he attacked for it.  The fight between these two hawks made the leaf fall into the river Yamuna, landing in the mouth of a fish.
Actually the fish was a celestial nymph named Adrika, who was born as a fish due to a sage's curse.  Catching the leaf full of semen, Adrika (as a fish) conceived twins: a boy and a girl.  Some fishermen belonged to Uparichara Vasu's kingdom caught the fish.  When they cut the fish open and found the babies, they took the babies to their king, Uparichara Vasu.  The King chose the boy to be raised in his palace, naming him Matsya because he was born out of a fish; Vasu returned the girl to the fishermen.
The tribal chief brought her up as his daughter, naming her Kali, the dark one, which was later changed to Satyavati.  However, she was commonly called Matsyagandha, meaning one who smells like fish.  Indeed, she smelled like fish.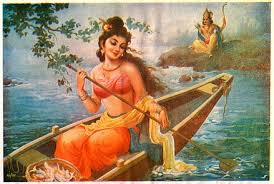 The tribal chief also was a ferryman on the river Yamuna, taking people across the river.  Satyavati helped her father with ferrying people.  One day, Satyavati was ferrying the sage Parashara across the river.  Through his meditative powers, he felt that the time was right for a great sage to be born.  This inner knowing would become manifest in the world if he had coitus within a short period of time.  Therefore, he wanted Satyavati agree to his wish.
She tried to dissuade him, but Parashara was persistent, desperate not to miss the opportunity to have a great sage as his heir.  Satyavati said that, with her fish-like smell, it will be hard for sage Parashara to be with her.  With a touch, sage Parashara, turned her fish-like smell into yojan-gandha, the fragrance of musk.  Satyavati was taken by this, but then she pleaded that it was not appropriate to have sex in broad daylight, such that her father and the others will be able to see them.  Sage Parashara used his powers to shroud the entire area in thick fog.  Still she protested that he would to rob her virginity and leave her shamed in society.  He blessed Satyavati that it would be a secret and her virginity would remain intact.  Unable to dissuade him, also scared that he would get angry and curse her, she agreed.
After the act, the sage had a bath in the river and left, never to meet her again.  In accordance with the sage's blessings, Satyavati gave birth to her baby in secrecy on an island in the river Yamuna. It was a boy, who grew up in a short period of time to be a youth.  He was less handsome, but he had a blissful radiance, definitely indicating that he would become a great sage.  His name was Krishna (dark) Dvaipayana (born on an island).  He later became known as the great sage Vyasa, compiler of the Vedas, author of the Puranas and the Mahabharata, this great epic.
Krishna Dvaipayana promised his mother that he would come to her aid every time she called on him, which she could do by a mere thought.  He then left to do penance in the forest.  After this, Satyavati returned home and continued to help her father.  No one knew what had happened.  Her virginity was intact and she now had an everlasting sweet fragrance.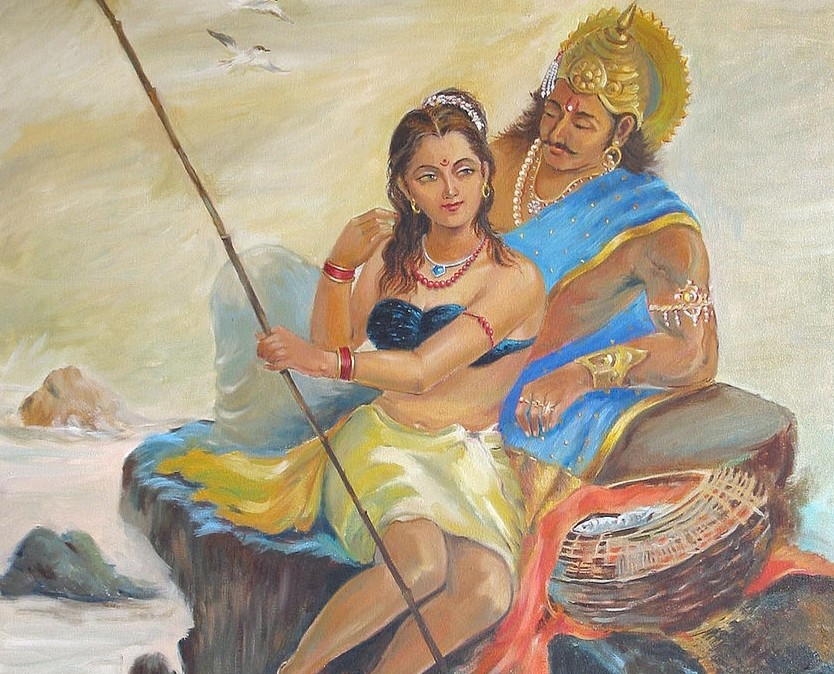 Let's return to King Shantanu.  On the banks of the river, seeing and smelling her, he became love-struck.  For the second time in his life, he requested a maiden, who he saw only moments before, to marry him.  Satyavati said she had no right to answer that question, that he must ask her father, the tribal chief, for her hand.  Immediately, King Shantanu went to her father, explained who he was and requested Satyavati's hand.
Her father said he had to marry Satyavati to someone soon, that he had no objection and it would be a great honor to give her in marriage to King Shantanu.  However, he had one condition, that a son born to Satyavati should be the successor to the Hastinapura throne.  But King Shantanu had gotten burnt due to the conditions from Ganga and had already named Devavrata to be Crown Prince.  How could he go back on his word to his son?  Rejecting this condition, disappointed and unhappy, and with a very heavy heart, King Shantanu returned to the palace.
A few days passed.  Devavrata noticed that his father was more dejected than usual.  He understood that his father missed his mother and therefore was sad all the time, but this was different.  Devavrata wanted to find out about it.  King Shantanu would not disclose anything to his son.  Determined to find out what happened, Devavrata inquired from all of the workers and others close to the king if anything happened in the past few days that would make his father unhappy.  From his father's charioteer, he found out about the whole ordeal which had transpired at the banks of Yamuna.  Devavrata wanted to do something to make his father happy, so had the charioteer take him to Satyavati and her father at once.
More to come…