By Nirooshitha Sethuram
We return to Lord Ram's story, seeing he and his three brothers growing quickly.  Rama and Lakshmana were inseparable, as were Bharata and Shatrugna.  The pairs did everything together: eating, playing and studying together.  They were well-educated, both in the Vedic lore as well as a king's martial arts.  Sage Vasishtha, Dasharatha's kula (clan) Guru taught them everything they needed in life and to rule the kingdom well, when their time would come, after their father.  Soon they grew into young men.
It was time for them to be married.  Dasharatha had begun talking with Sage Vasishtha about their readiness to marry when Sage Vishvamitra visited.  The king respectfully welcomed Vishvamitra with all formalities, asking what grace brought him to the palace.  Sage Vishvamitra explained that his sacred yaj~nas (fire ceremonies), performed for the happiness and prosperity of the world, were frequently disturbed by rakshasas (forest spirits).  He asked Dasharatha's to send Rama to protect Vishvamitra's forest ashram.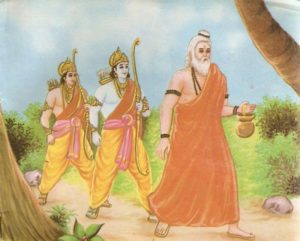 Feeling protective towards his children, especially Rama, Dasharatha begged Sage Vishvamitra to let Rama be.  Instead Dasharatha himself would come to protect the ashram.  But Sage Vishvamitra knew who Rama really was, an incarnation of Lord Vishnu.  The sage refused Dasharatha's offer, even saying he doubted Dasharatha's promise to protect the sages in his kingdom.  Sage Vasishtha convinced Dasharatha to send Rama.  As always, a package deal, Lakshmana joined Rama on the adventure.   On the way to the forest, Vishvamitra taught Rama and Lakshmana several mantras of warfare, including incantations and astras (energetic weapons).
On reaching the hermitage, Vishvamitra instructed the princes to safeguard the yaj~na from rakshasas trying to disturb the proceedings.  A rakshasi named Tataka was the first to try.  In the fierce battle between Tataka and Rama, following the advice of Vishvamitra, Rama killed her, though it was against kshatriya (warrior) principles to kill a woman.  Next Subahu was killed by Rama.  The third was Maaricha, whom Rama dropped in the sea near Sri Lanka by using an astra arrow.  Vishvamitra successfully completed his yaj~na, very happy that Rama and Lakshmana helped him in this effort for the world's benefit.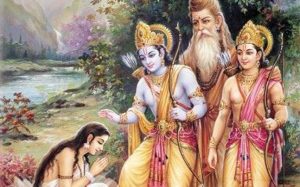 Vishvamitra then took the boys to a few places, describing the importance and history of each.  During their walk through the forest, Rama stopped and placed his foot on a small rock, to everyone's astonishment, the rock turned into a beautiful woman.  She bowed to Rama and introduced herself as Ahalya, thanking him for lifting the curse placed upon her by her husband, Rishi Gautama.  A daughter of Lord Brahma, Ahalya was cursed due to an unfortunate incident involving Indra's (the King of Devas) lust for Ahalya.  Ahalya, now freed from the curse, became even more purified by the touch of Rama's foot, and returned to the heavens.
Continuing onward, Sage Vishvamitra, Rama and Lakshmana arrived in the kingdom of Mithila.  They found out that a big event was happening soon, a svayamvara — a contest to win the princess Sita's hand in marriage.  She was the daughter of King Janaka, of the Videha dynasty, a great philosopher-king.  His capital city, Janakpuri, was a dominant political and cultural center as well as a hub for the sages, including Janaka's Guru, Yaj~navalkya.
Who is Sita?  King Janaka, like Dasharatha, didn't have any children.  He constantly prayed to Lord Shiva for a child.  One day, as he was getting the ground plowed and prepared for a yaj~na, he unearthed a golden casket.  In the casket he found a beautiful baby girl.  He took the baby as a gift from the Gods, naming her Sita, meaning "from the furrow."  Sita is therefore known as the child of Bhoomi Devi (Mother Earth's child).  She was an incarnation of the Goddess Lakshmi, coming to assist Lord Rama with his task on earth.
Sita was brought up as the adopted daughter of Janaka and his wife Sunaina, raised as a princess of Mithila.  Sita is also called "Janaki" (beloved by her adopted father), "Vaidehi" (a princess of the Videha dynasty) and "Maithili" (a princess of the Mithila Kingdom).
Sage Vishvamitra took the boys to watch the svayamvara.  Walking by the palace, Rama looked up and saw a beautiful girl in one of the balconies.  She too saw him.  Their eyes met; dare we call it "love at first sight?"  Yet they must proceed to the svayamvara.
Whomever could lift Pinaka (Lord Shiva's bow), string it and shoot an arrow from it, would win Sita's hand in marriage.  Many princes of great strength and valor were present at the svayamvara.  One by one, each tried but failed miserably.  Not one was able even to lift the bow, let alone launch an arrow.  Then, in the midst of high protests, some of them got together to try lifting it, but couldn't budge the bow even an inch.  All the princes told Janaka that his challenge was too hard and that his daughter would die unmarried.  Though heartbroken, Janaka couldn't change the rules of the svayamvara once they were established.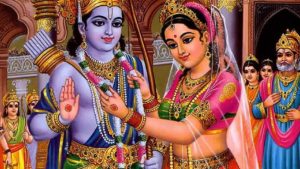 When all the others gave up, Sage Vishvamitra winked at Rama to go to the stage and launch the arrow.  Rama went near Shiva's bow, bowed to it and worshiped it, praying to Lord Shiva for his blessings.  To everyone's astonishment, Rama then lifted the bow with just one hand, strung it and shot an arrow from it.  It made the bow break in half with a thundering sound, heard by everyone in all the corners of the earth!
Sita came out with a garland and placed it on Rama's neck.  Rama was delighted to find the girl he had seen on the balcony, now garlanding him.  On her part, Sita was pleased to be garlanding the handsome man she had seen from her balcony.
King Janaka sent a messenger to inform King Dasharatha about the svayamvara and, with due respects, to propose the marriage of Sita to Rama.  It was also decided that the three brothers of Rama would marry the sister and cousins of Sita:  Sita's cousin Mandavi to marry Bharatha, Sita's younger sister Urmila to marry Lakshmana, and Sita's other cousin Shrutakirti to marry Satruguna.  The weddings were performed in Janakapuri with great gaiety and splendor, befitting the kings of both kingdoms.  The four brothers with their wives started back to Ayodhya with their parents.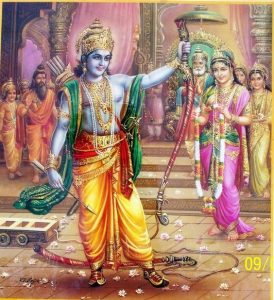 The thundering sound from the breaking of Shiva's bow, Pinaka, had reached all the corners of the earth.  It also reached the ears of Parashurama, another incarnation of Vishnu, who was meditating atop the Mahendra Mountains.  He knew what that sound was; he had given Pinaka to King Janaka!  Parashurama was enraged.  He called a challenge out to Rama.  Everyone was terrified, as they knew who Parashurama was.
Rama proved to be equal to Parashurama in all the weapons.  Parashurama got suspicious, so he asked Rama to string Sharanga (Lord Vishnu's bow).  Rama did it in the blink of an eye.  The warrior-sage Parashurama realized he was looking at his own subsequent reincarnation.  He gave Sharanga to Rama and blessed Sita, then retired for his meditations on Mount Mahendra.
The wedding party continued to Ayodhya.  On their return, the whole kingdom joyfully welcomed the new couples with great devotion and respect.  Ayodhya was flourishing more than ever, after the arrival of the princes with their consorts.  More to come…