By Nirooshitha Sethuram
Rama left the forest of Chitrakoot, visiting other ashrams, meeting many sages and getting their blessings. He also helped them by killing the rakshasas harassing them, as this was a time when demonic forces were strongly affecting the earth and her residents. Agastya was one of the great sages Rama visited, who gave the great gift of Vishnu's bow and arrows.
Agastya suggested that Panchavati would be an ideal place for Rama's further stay in the Dandakaranya forest. Thus, Rama settled in Panchavati. On the way there, Rama met Jatayu, the king of birds. Jatayu was so happy to meet Rama! Jatayu promised to guard all three of them from the sky.
A rakshasi named Shurpanaka occupied Dandakaranya forest along with her brothers Khara and Dushana. One day, Shurpanaka happened upon Rama's hermitage. Seeing this handsome man, she wanted to get married to him. She changed herself into a beautiful young woman and made an advance towards Rama. Rama refused her, saying he was married, and sent her to check with Lakshmana (for some amusement). "Not a bad replacement," she thought and approached Lakshmana. Short-tempered as always, he stared at her and told her to keep away from him.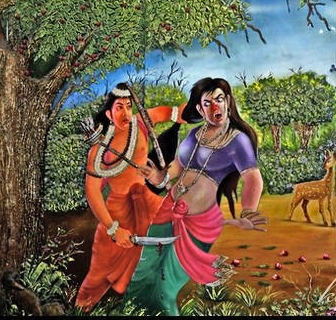 Knowing Lakshmana was not going to work out, Shurpanaka decided to harm Sita, as she was the cause for Rama's refusal. Shurpanaka charged towards Sita. Lakshmana, with one swing of his sword, cut off Shurpanaka's nose. Shurpanaka ran to her two brothers for help; they came to Rama's hermitage to fight him. Rama and Lakshmana killed both the brothers with ease. Seeing this, Shurpanaka went screaming to her beloved brother Ravana in Lankapuri (Shree Lanka).
Who is Ravana? Ravana was the son of the great sage Vishrava (or Vesamuni), whose father was the sage Pulastya, one of the great sages of all time, son of Brahma. Ravana's mother was and Kaikeshi, whose father was Sumali (or Sumalaya), king of the Asuras. Kaikesi's brothers, Maaricha and Subahu, were Ravana's uncles. Ravana had six brothers: Kubera, Kumbhakarna, Vibhishana and Ahiravan, as well as Khara and Dushan, whom Rama had just killed. His older sister was Kumbhini; his younger sister was Shurpanaka.
Ravana and his brother Kumbhakarna are the second incarnations of Jaya and Vijaya, the gatekeepers of Lord Vishnu. Ravana married Mandodari, the daughter of Mayasura, and they had seven sons, Meghnaada (the most powerful one, also known as Indrajit), Atikaya, Akshayakumara, Devantaka, Narantaka, Trishira and Prahastha.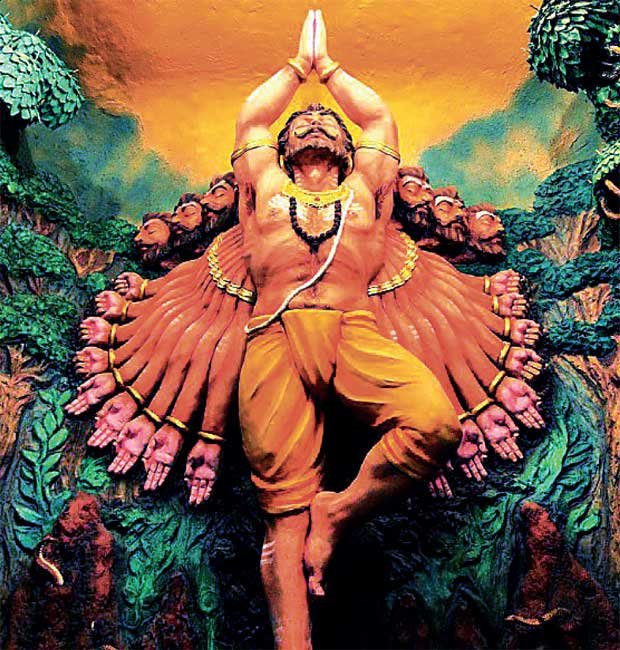 Ravana was a great scholar, having learned all four Vedas. He was also a great musician, playing the veena (a stringed instrument), as well as a great singer from which he got the name Ravana, which means "of the terrifying roar." He had ten heads and twenty arms. Above all, Ravana was known as the greatest devotee of Lord Shiva. Ravana composed the hymn known as the Shiva Tandava Stotra.
Ravana had performed intense penance to Brahma for several years. When Brahma appeared before him, Ravana requested immortality. Brahma refused. Then Ravana asked for invulnerability from gods, heavenly spirits, other asuras, serpents and wild beasts. Thinking he was stronger than any mortal human being, he didn't ask protection from humans. Brahma granted his wish.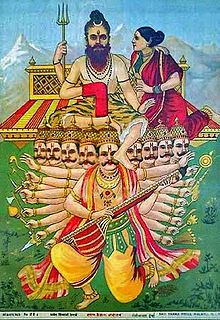 Being a great devotee of Lord Shiva, Ravana then went to see Lord Shiva at Mt. Kailasa. Nandi refused to let Ravana in, since Lord Shiva had asked not to be disturbed. To show Nandi his love for Shiva, Ravana attempted to uproot and move Mt. Kailasa.
Lord Shiva, to get rid of Ravana's arrogance, pressed his little toe on Kailasa, pinning Ravana under the mountain. Realizing he had made Lord Shiva angry, Ravana plucked off one of his heads, one of his hands and some of his nerves to create a makeshift veena, playing it to pacify him. After listening to Ravana's music for a long time, Lord Shiva released him from bondage. Pleased with his resilience and devotion, Shiva gave him a divine sword called Chandrahas, warning if Ravana used it for any unjust deeds, it would return to Lord Shiva and Ravana's days will be numbered.
Let's return to the story. Shurpanaka fled to Ravana, screaming that Lakshmana had cut off her nose and that she wants revenge. Seeing his younger sister in distress, Ravana roared, ready for war. His sister stopped him, saying she had learned that Rama and Lakshmana were very powerful; she recommended they get revenge in a different way. She went on to talk about Sita, emphasizing her beauty and how she should be married to Ravana, as well as suggesting that he kidnap her. Shurpanaka's devastation, her persuasion towards revenge and the beauty of Sita excited Ravana's lust and poisoned his mind. Thus the plot was proposed and planned.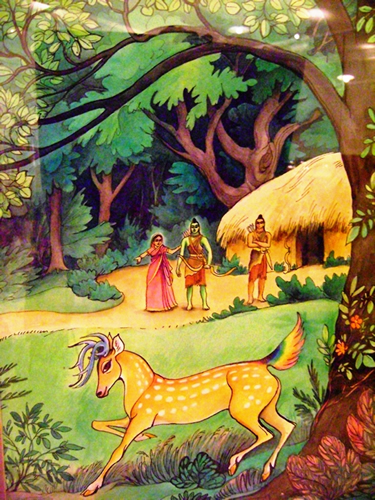 Ravana's uncle Maaricha had the ability to change his form. Becoming a beautiful, golden deer, he roamed near Rama's hermitage to catch Sita's attention. Captivated by the beauty of the deer, wanting to pet it, Sita requested that Rama catch it for her. Rama went to catch the deer but it led Rama far away. A bit annoyed by the deer's evasive techniques, sensing something was not right; Rama shot an arrow at the deer. The arrow hit Maaricha, but before dying, he shouted out, in Rama's voice, "Oh Lakshmana! Lakshmana!"
Sita heard this scream. Worried about Rama's safety, even afraid for his life, Sita requested Lakshmana to aid his brother. Lakshmana did not believe the cry was Rama's, so he refused to go, as Rama's order had been to stay and guard Sita. After Sita's forceful persuasion and insisting behavior, Lakshmana agreed to go search of Rama. Before leaving, he drew a circle around the hermitage to guard it with mantra, casting a spell that prevented anyone from entering that boundary.
Ravana saw that the coast was clear. Making use of this opportunity, he disguised himself as an ascetic and came to the hermitage asking for food. As a good housewife never refuses to give food to an ascetic, the unsuspecting Sita stepped out of Lakshmana's circle to offer the food, since the ascetic was unable to come into the circle.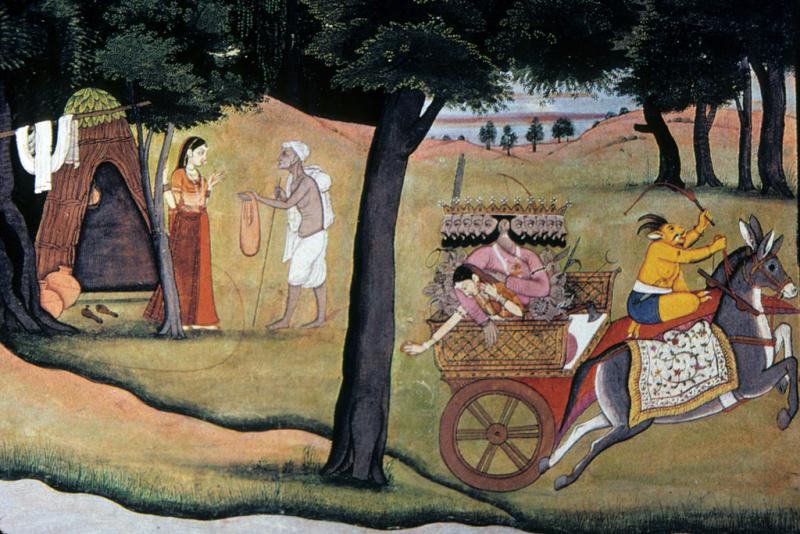 At that moment, Ravana turned into himself. He took Sita along with the earth she was standing on, as he was unable to get close to her due to her chastity and her devotion to Rama. He put the dug-up earth with Sita on it into his flying chariot, "Pushpaka Vimana," and flew towards Lankapuri. As she was being carried away, Sita cried for help and began dropping her jewelry pieces, one-by-one.
Hearing Sita's cry, Jatayu, the king of birds, confronted Ravana. Though Jatayu did his best, he was no match for the mighty Ravana. Ravana cut off one of Jatayu's wings; mortally wounded Jatayu fell to the ground. Ravana continued south to reach Lankapuri, and imprisoned Sita in his garden, Ashokavana, guarded by rakshasas.
Meanwhile, Lakshmana found Rama with the dead deer. Figuring there was some conspiracy in what happened, the brothers rushed back to the hermitage. They found only strewn rice and the other food Sita had been offering to the ascetic. Sita was missing.
They began a vigorous search, going about the forest to find her. They came across ornaments she had dropped one-by-one. They continued in the direction the ornaments were found.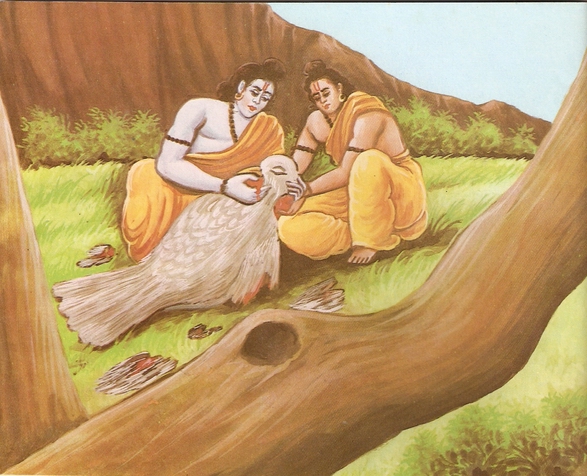 They found Jatayu. He'd been saving his last breath to inform Rama that Sita had been abducted in a flying chariot going south. Rama put Jatayu on his lap with great sorrow; Jatayu died in Rama's hands. Rama performed the last rites for Jatayu and continued south. Rama forged onward, with a broken heart and tears in his eyes shouting, calling "Sita, Sita, Sita…" asking anyone they encountered if they had seen Sita.
Goddess Parvati was sitting next to Lord Shiva on Mt. Kailasa. She asked, "My Lord Shiva, has Lord Vishnu forgotten who he is? Why is he searching for Sita like this?" Lord Shiva replied, "Why don't you find out?" So Goddess Parvati changed herself into an elderly woman and came before Rama. Rama saw the old woman, and immediately said, "Devi Parvati, please accept my pranams. How is Lord Shiva?" Astonished, Goddess Parvati greeted Rama and returned to Kailasa.
Lord Shiva explained, "You are who you are, but when you take the form of a human being, you will have to abide by the rules of human nature, which means you forget your own divine nature." Lord Shiva continued, "I have not helped Lord Vishnu in his past incarnations. I need to help him in this one." Goddess Parvati agreed.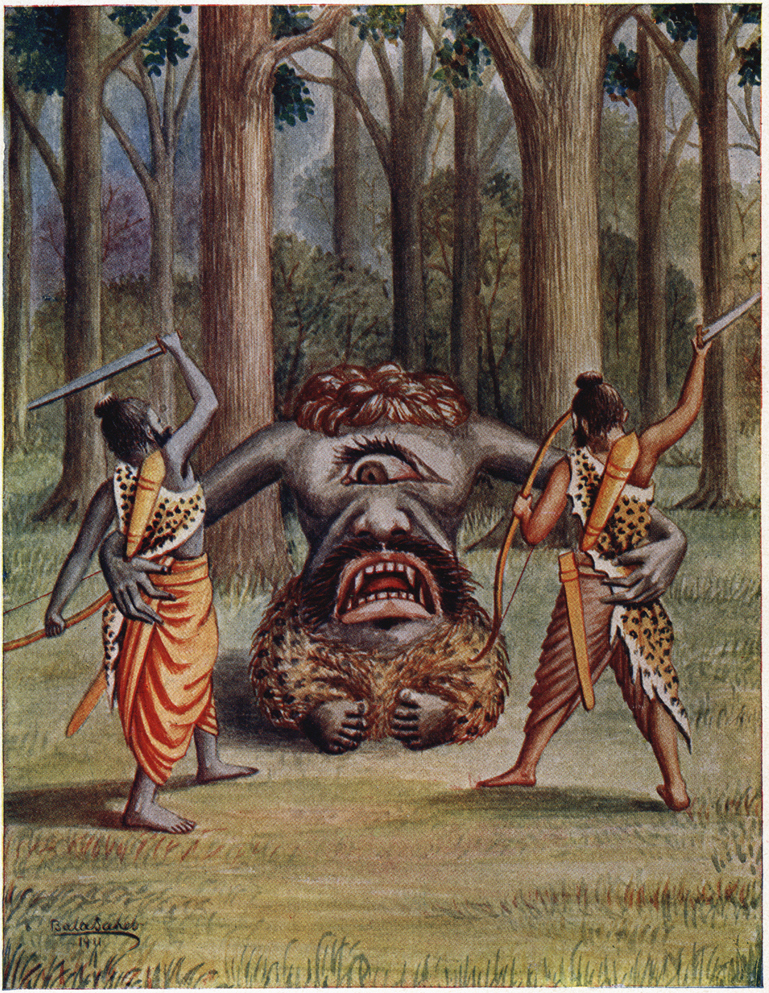 After meeting Goddess Parvati, Rama continued his search as though nothing had happened. During the search, Rama came across a demon named Kabandha who tried to swallow both the brothers. They fought and killed him. With his last breath, he thanked them, saying that he had been waiting for them to release him from a curse that made him demoniacal. He advised the brothers to visit Shabari, an old ascetic living in the nearby forest.
Delighted by their visit, Shabari greeted them with respect and served them food. Especially she served Rama, offering rare fruits that could be very sweet but were sometimes sour. To be sure she offered only the best, she first tasted each one to insure that it was ripe and tasty. Rama was pleased by her intention and loving care, so he whole-heartedly accepted each of the fruits.
She directed them to go to Mount Mathanga. After blessing her with liberation, Rama traveled to Mount Mathanga, searching for Sita. Near Mount Mathanga, they come across a great strong monkey, who introduced himself as Hanuman.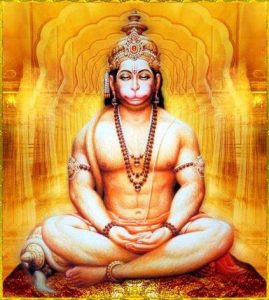 More to come…