By Mati Gilbert & Swami Nirmalananda
I held myself back from totally connecting with anyone and anything for most of my life. Sure, I joined programs and interacted with family, friends, and others, but I wasn't really committed. I always held out a piece of me that was just for me. It was my way of keeping some control over my life and me. I couldn't completely surrender to anything. Then I received a mantra. How things began to change for me!
There are two types of mantra, mundane and divine. Mundane mantras are ordinary words you use on yourself. Divine mantras are spiritual, putting you on the path to finding, knowing and being your Divine Self. Divine mantras are given by a qualified teacher, one who is authorized by an enlightened Master, who was authorized by their Master, etc. The lineage goes back to ancient times, with practices and teachings been passed down through the generations, even bringing the teachings to modern-day America. They came all the way to me and can be passed down to you as well.
Cittam mantra.h – Shiva Sutras 2.1
Mind is mantra.
The translator, Jaidev Singh, describes how to use mantra, "…the performer of the mantra should identify himself with the deity invoked in the mantra, if it is to succeed."
Swami Nirmalananda explains, "Mind is made of words. Whatever your mind is saying to you, that is what you are becoming. You can choose mantras that tear you down or mantras that build you up. You can repeat mantras for worldly happiness and success, or you can get an enlivened mantra from a Master, a Divine mantra that will give you your Self. You choose."
When you use your mind to repeat the Divine mantra, your mind itself becomes the mantra, vibrating with the mystical power of consciousness. What an extraordinary mind! What an amazing mind! Your mind becomes aware of the Divine Truth that you are Shiva.
For your mantra to work most powerfully, you must say it with love and devotion. Swamiji says, "Think of it this way: your mind obsesses on things that are important to you. When your mind returns to something again and again, you are devoted to it, even if it is painful. Your repetition proves your devotion. Now apply that ability to a Divine mantra, and see what it will give you."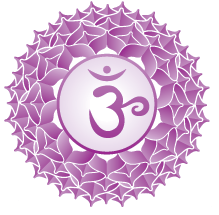 The mantra is the tool for you to become Self-Realized. When you repeat your mantra, understand that you as the speaker, the mantra and your goal of realizing your own Divinity are all the same. The mantra vibrates with the mystical reality of your own Divinity, so your mind begins to vibrate with that same energy, giving you the experience of your Self.
The mantra makes you understand your true nature, which is pure Consciousness. You realize who you really are. You begin to experience and understand that you are Shiva. Mantra cannot work at full power if you see the mantra and you as being separate.
Several years ago, Swami Nirmalananda gave me an enlivened mantra. Filled with Grace, it put me on the path of Self-Realization in this lifetime. However, making progress is up to me. I have to use it. And it is more powerful when I remember that I am the mantra.
Even knowing about this, my mundane mind doesn't want me to lose my sense of control. But the amazing thing is that my Divine mantra becomes stronger each day. The more I say mantra, the more my mind becomes the mantra. We truly are one and the same.
You get to choose. Are your mundane mantras working for you? You need a Divine mantra to begin to know your inner Divinity, to put you on the path of enlightenment. I know the path I want to take. What about you?