By Nirooshitha Sethuram
The sage Mrikandu and his wife Marudhvati were devotees of Lord Shiva. They spent most of their time singing the songs of the Lord and spreading his stories everywhere. However they did not have any children, though they had been married for a long time.
They decided to perform intense tapas (austerities) in order to please Lord Shiva and win His blessing to have children. Finally pleased with their penances, Lord Shiva appeared before them. He said, "I am pleased by your devotion. Ask from me any boon you desire."
Mrikandu and his wife were overjoyed. Mrikandu said: "O Lord Shiva! We are childless. Grant us a son." The Lord replied, "Do you desire to have a virtuous, wise and pious son who will live only sixteen years or a dull-witted, evil-natured son who will live a long time?" The sage and his wife did not hesitate over the choice. They did not want an evil- natured son, so they wished for the first. Lord Shiva blessed them, granted their request and disappeared. Marudvati gave birth to a boy, who they named Markandeya.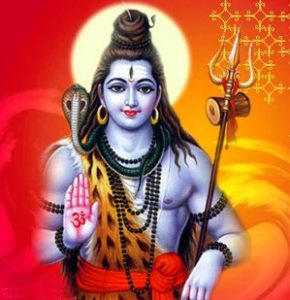 Markandeya was indeed a very gifted child. He mastered all the Vedas and scriptures while he was very young. He also loved his parents very much. Watching them from his childhood, Markandeya also became a faithful devotee of Lord Shiva. He loved singing bhajans (poems) for Lord Shiva, losing himself in thinking of the Lord. He spent his days very happily, delighting everyone by his charms and pleasant behavior.
But the parents were sad at heart. Whenever they looked at their son, a gloom spread over their face. They did not tell Markandeya that he was destined to a short life, but he was very intelligent, and sensed that his parents were unhappy about something. No matter how hard he tried, his parents remained unhappy. They seemed to put on a happy face when he was around, but deep inside he could sense their sorrow.
The sixteenth year was fast approaching. One day, unable to control their grief, they wept in front him. Markandeya asked them gently the reason for their grief. Mrikandu, with tears running down his cheeks, said, "O my son! According to Lord Shiva"s boon you are destined to live only for sixteen years. How can we withstand this? We are helpless and do not know what to do." Markandeya consoled his parents, saying that death was not a thing for wise people to dread. It is as natural as birth.
The next day he came to them and said, "Dear father and mother, do not worry for me. Bless me that I may succeed in winning over death. Permit me to perform tapas to please the Lord." His parents could not help but feel optimistic when they heard the words of the boy. The parents blessed him wholeheartedly and sent him for penance.
He came to the seashore and felt peaceful. Using the mud there, he lovingly built a Shiva Linga. He sat down there and started his prayers. He sang bhajans and then started to meditate.
Yama, the Lord of Death, realized that Markandeya"s time on earth was up. He sent two servants to collect Markandeya"s soul. However, by this time Markandeya was very deep in meditation. Yama"s servants came to take his life but they could not approach him as the radiation from him was too intense for them. Facing failure for the first time, the servants returned to their master.
Yama himself came on his black buffalo. In his hand, He had the well-known noose for taking the young lad's soul from his body and carrying it away. Yama saw the young devotee engaged in the worship of Lord Shiva. Yama could not let the worship be completed if his duty as the God of Death was to be properly performed. Normally invisible to human eyes, this time Yama was forced to show himself to the young boy, by virtue of the latter's intense goodness and devotion to God. "Markandeya," Yama spoke deeply, "your time on earth is up…"
Markandeya opened his eyes and looked at Yama, but did not get afraid. He looked at Yama in the eye. "I will not go with you until I finish my prayers." Yama repeated, "Your time on earth is up. I have to take you now."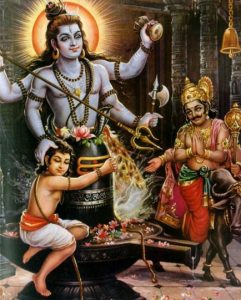 Markandeya smiled, shook his head and hugged the Shiva Linga tightly. Realizing that only Shiva could help him, Markandeya closed his eyes tightly, praying to the Lord. Yama threw his rope with the loop. It encircled Markandeya"s neck along with the Shiva Linga. All at once, the Shiva Linga split into two and out came Lord Shiva, trident in hand. He kicked Yama aside and killed him.
The assembly of Devas (Gods), with their Lord Indra, immediately appeared before Lord Shiva. They begged Shiva to revive Yama, as a world without death would put unnecessary burden on the earth. Shiva revived Yama and declared, "Markandeya will live forever. He will be the one who has conquered death."
Yama opened his eyes as the wound in his chest healed. He looked at Markandeya, smiled and prayed to Lord Shiva. Then Yama disappeared from there with the other Devas.
Markandeya then fell at the feet of Lord Shiva, "Lord, since I have seen you, I want nothing more." Lord Shiva smiled and said, "Go back to your parents, Markandeya. Look after them for their life span. After that, roam the earth and help others. You will remain sixteen for all eternity. You will always have my blessings."
Markandeya went back to his parents, who were overjoyed on hearing his story. He indeed looked very well after his parents. He never aged more than sixteen.
The form which Lord Shiva took on in order to kill Yama is called as "Kalasamhara Murti." "Kala" is Death, "Samhara" is ender, "Murti" is form.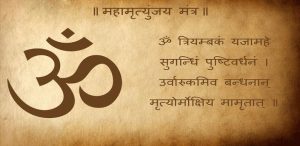 Hindus believe that Markandeya is still alive and roaming the earth, continuing to do good to all. He is a chiranjeevi, one who lives forever. Markandeya, also known as Mrityunjaya, gave the "Maha Mrityunjaya Mantra" to the world, the fear-dispelling mantra.
OM svaroopa svasvabhavah namo namah