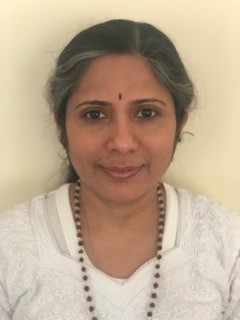 By Nirooshitha Sethuram
Graphics by Sheralee (Shambhavi) Hancherow
The next encounter in Krishna's life was Narakasura. Who is Narakasura?
Narakasura, also known as Bhumasura, was the son of Bhumata, Mother Earth. She is the incarnation of Lakshmi and the consort of Varaha. When Lord Vishnu incarnated as Varaha, at her request he married her, having saved her and the good people on earth by slaying Hiranyaksha. [see blog on Narasimha Avatar]
Narakasura was born out of their union. When the child was born, Bhumata prayed to Lord Vishnu, asking him to bless their son with a long life. Lord Vishnu told her that she need not worry about her son since he would have to come back in another incarnation to end his son's life, when the time comes.
Narakasura was brought up pious and humble until his association with the asuras. The demons changed him into one of them. He became so powerful and mighty that he brought all the kingdoms on earth under his control. Then he started harassing the devas, the heavenly beings. Even the mighty Lord of the Devas couldn't withstand his assault. Indra fled the heavens.
This made Narakasura the king of heaven and earth. He didn't stop there. He stole the earrings of Aditi, Indra's mother, as they had extraordinary powers. He snatched Varuna's umbrella and occupied Indra's seat on top of mount Meru. He had already kidnapped sixteen thousand young princesses too, keeping them captive in his palace.
Led by Indra, all the devas went to Lord Vishnu seeking help. Lord Vishnu promised to protect them from Narakasura when the time came. And now was that time. Lord Indra visited Krishna, the incarnation of Lord Vishnu, and complained about Narakasura. Indra reminded Lord Vishnu to protect him and the devas from Narakasura's tyranny.
Krishna, to fulfill his promise to Indra and the devas, as also to Bhumata, went to war with Narakasura. Krishna rode on Garuda, his eagle mount, along with his wife Satyabhama.
The reason Krishna went with Satyabhama was that she is the incarnation of Bhumata. Aditi, Indra's mother, and the devas had also complained to Satyabhama about Narakasura's wrongdoings.
Once Krishna reached the city of Pragjyotisha, he blew his horn Panchajanya. Then he attacked Narakasura's great fortress. The fortress was fortified by several barriers consisting of mountain ranges, water, fire and cyclonic winds. He destroyed all the protective formations one by one with little or no effort.
Then came Mura, Narakasura's general. He used many magical weapons to attack Krishna. Krishna was able to defuse them very easily and killed Mura with his mace. Ever since that, Krishna has been called Murari the slayer of Mura.
Narakasura himself came to fight Krishna and used several divine weapons against him. Krishna again easily neutralized them all. Narakasura also started attacking Garuda, Krishna's mount. He tried his best to beat Garuda, using all his strength, but nothing worked. Garuda didn't even get a scratch.
Filled with anger, as a last resort he threw his trident at Krishna. For this Krishna acted as he was fainting. Due to a boon that Narakasura had gotten, he could only be killed by the one who gave birth to him. Seeing that Krishna had fainted enraged Satyabhama, who is Bhumata. She beheaded Narakasura with Krishna's Sudarshana Chakra.
While taking his last few breaths, Narakasura realized his sins. He surrendered to Krishna and asked him for his mercy. He also asked for a boon to celebrate the day of his death as the day of liberation, the festival of lights. It is celebrated as Diwali.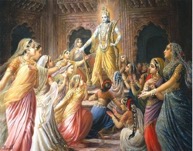 The devas were delighted to see Narakasura fall. They showered flowers from the sky while praising Krishna's name. Narakasura's son was crowned by Krishna at the request of Bhumata. Krishna released the sixteen thousand captive princesses who had been jailed by Narakasura. They fell at Krishna's feet asking him to accept them as his wives, as no one else would now support them. Krishna accepted them all as his consorts and sent them to Dwaraka with guards carrying tons of wealth.
Krishna visited Deva Loka with Satyabhama by his side. He lovingly returned Indra's mother's earrings to her and Varuna's umbrella to him. Indra and his wife Indrani worshipped Krishna.
There in Indra's garden Satyabhama saw the celestial Parijata tree with its golden bark and intoxicating fragrance. She reminded Krishna of a promise. Thus, on his way back, Krishna took the Parijata tree from Deva Loka without Indra's knowledge. Why would Krishna do this knowing it would make Indra angry?
Some time earlier, Sage Narada got a few flowers from the celestial Parijata tree and offered them to Krishna. Narada had an ulterior motive, wanting to see which one of Krishna's beloved wives he would give the flowers to. With delight, Krishna gave the flowers to Rukmini.
Finding this out, Satyabhama was provoked with jealousy. She confronted Krishna, expressing her anger and disappointment about the whole incident. Krishna said, "Are you crying over just a few flowers. I'll get you the tree itself from Deva Loka." Thus, Krishna uprooted the tree and loaded it on Garuda to take home to Dwaraka.
When Indra found out, he was furious and took his army to battle with Krishna, forgetting all the favors he had just gotten from him. Krishna easily defeated them all and returned to Dwaraka with the celestial tree.
Defeated, Indra cursed that the plant would never bear fruits, though it might bear flowers. Since then the Parijata tree does not bear any fruit.
Satyabhama happily brought the tree to her palace, showing it off as her trophy. Rukmini also took a fancy to it because of its flowers. She loves adorning Krishna's feet with flowers. So she insisted that she too wanted the flowers.
As Krishna loved them both, he planted the tree in Satyabhama's courtyard in such a way that its flowers fell down in Rukmini's courtyard. In this way he made both of his wives happy.
Krishna also married the sixteen thousand princesses, in as many palaces. He took on as many forms for them at the same time. All of his wives were accommodated in their special palaces so that there would be peace among them all.
Sage Narada was a celibate, so he had a doubt as how Krishna treated all his wives and how they regarded him. The thought of keeping a single wife seemed a great burden to him. So he wanted to know how Krishna managed to please all his wives, while still finding time for all his other accomplishments.
Narada went to Rukmini's palace and saw Krishna relaxing on a swing bed with Rukmini lovingly fanning him. Krishna jumped up as soon as he saw the sage and welcomed him. After accepting all the hospitalities, Narada then went to the next door to Satyabhama. To his astonishment, there he saw Krishna playing a game of dice with her. Krishna again jumped up and greeted the Sage. Narada was puzzled. After enjoying their company, he moved on to the next palace. There he found Krishna with his wife Jambavati.
Poor Narada stuck to his self-imposed task, climbing in and out of as many palaces as he could. In each of them he was greeted by smiling Krishna and a loyal, pleased and contented wife. Then he realized his mistake was in doubting Krishna, the incarnation of Lord Vishnu. He is the one in all. Everything exists in him. Then he prayed to the Lord, asking for forgiveness for doubting him.
Out of all his wives, Krishna could never find any fault with Rukmini.  She was very great and always engaged in his service wholeheartedly.  One day, Krishna wanted to see Rukmini's beautiful face in an aggravated condition.  So he schemed out a conversation which would press her buttons and make her irritated.  Why would Krishna want to do this to Rukmini? It is said that it's important for husband and wife, though in love, to have small conflicts and find ways to unite again.  
More to come…