By Nirooshitha Sethuram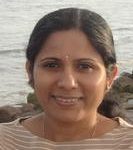 The Pandavas, with their new bride Draupadi and their mother Kunti, entered the fully decorated royal kingdom of Hastinapura. Guru Drona, Kripacharya, Vikarna and other dignitaries came to receive them at the gate. A very grand welcome was accorded to the Princes, their bride and Kunti by the citizens of Hastinapura. Their joy over this event was boundless. They were not only happy to see them alive but also delighted to see their new beautiful bride. They always saw Yudhishthira as an image of their old king Pandu, who was famous for his bravery and justice. They had full faith in Yudhishthira and believed he was to rule the kingdom of Hastinapura, reviving it to its old glory.
The Pandavas got blessings from their grandsire Bhishma, the Gurus and King Dhritarashtra. Gandhari's joy knew no bounds. She hugged Kunti with utter delight, but inside her heart was aching for what her son Duryodhana had done to them.
As promised, half of the kingdom was ready to be given to the Pandavas. First and foremost, the rituals to crown Yudhishthira as a King started. Dhritarashtra crowned Yudhishthira in a grand ceremony and gave his blessings to rule half of the Kingdom of Hastinapura.
He addressed Yudhishthira, "Dear son, your father and my beloved brother Pandu developed this kingdom and ruled it with honor. He was popular, not only among the citizens of our kingdom, but also among the neighboring kingdoms. I bless you to do the same. My brother always followed my commands with utter respect. I would like you to love me the way he loved and respected me. You are very wise and tolerant. Unfortunately, my son's heart is filled with pride and ego. Pandu's untimely death and my makeshift possession of the kingdom has incited Duryodhana to develop a longing to be the next ruler of Hastinapura. Due to this, I am dividing the kingdom into two, to prevent a war between the brothers, so that there will be peace among all of you. "I have chosen Khandavaprastha as the capital for your kingdom. You can start ruling your half of the kingdom from Khandavaprastha. Our great ancestors Pururavasu, Nakusan and Yayati ruled the whole kingdom from that city. It is our oldest capital. There is a lot be done there. You may have to build it back from scratch. I give my best blessings for you to reconstruct and restore Khandavaprastha, to bring back its glory. I am sure that you will accept this arrangement in the interest of our Kuru dynasty."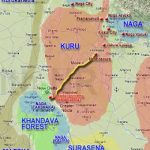 Dhritarashtra, by giving this sweet talk, gave Pandavas a barren land which had been unused for centuries. Most of its ruins were turned into a forest. It was overrun by wild animals and demons. Hearing this, Yudhishthira's brothers and all who were present were horrified. But Yudhishthira, modest and accommodating as always, gave his acceptance to Dhritarashtra's proposal. The satisfaction he showed to all who were present at the royal court was well received. Yudhishthira was praised by the elders for his compliant nature and generosity, and he was showered with blessings.
In due time they proceeded towards Khandavaprastha, followed by some of the loyal citizens of Hastinapura. After taking Krishna's advice, Yudhishthira got enough cattle, craftsmen and gold to establish a city. Krishna and Arjuna led the journey. They started early in order to clear the forest. When they arrived, they were met by the God of fire, Agni, who looked very ill. He requested help from both of them, begging them to free him from his misery.
Agni was suffering because of the consumption of too much ghee (clarified butter). This was due to King Svetaki's yaj~na, the sacrificial fire which he did nonstop for twelve years in order to please Lord Shiva, so that he could go to heaven. While Svetaki succeeded in his sacrificial fire, Agni was left with all that ghee, which was making him very sick due to indigestion. He was looking for something to burn, so to restore his strength. Thus he decided to burn the forest in Khandavaprastha. But he had not been successful in doing it, so he sought help from Lord Brahma. Lord Brahma advised Agni to get the help from Krishna and Arjuna who were on their way to the very same place.
The reason why Agni couldn't burn the forest was that it was the home to a serpent king named Takshaka, who ruled the Nagas, the snakes. Takshaka was very devoted to Indra, the King of the Devas, also being a very close friend of his. Takshaka and his clan were well protected by the grace of Indra. In addition, Takshaka was a good friend of the Asuric architect Mayasura. With the help of Mayasura he made the forest into a magical one. Every time Agni tried to consume the forest with his flames, Indra would bring a shower of rain and put it out.
Hearing this Krishna and Arjuna decided to help Agni. In the meantime, Yudhishthira, along with the other brothers and Draupadi, as well as all who accompanied them from Hastinapura, arrived at Khandavaprastha. They realized that the forest was already taken by Takshaka and the Nagas.
Takshaka was furious to see humans trying to occupy the only home he had ever known. He started attacking the Pandavas and the people who followed them to Khandavaprastha. Mayasura warned Takshaka not to fight the Pandavas, for he was aware of their bravery. Despite the advice from his friend, Takshaka went all in for a mighty war with the Pandavas. The Nagas started poisoning everyone who they came across.
Yudhishthira was very upset and tried to talk to Takshaka explaining that they are not there to chase them away, but they could live in harmony together in Khandavaprastha. His words failed to get through the deaf ears of Takshaka. Arjuna decided to put an end to the quarrel and started attacking Takshaka. Wounded, Takshska went back to the thick magical forest and started praying to Indra, seeking help from him.
To fulfill the promise that Krishna and himself made to Agni, Arjuna used his bow & arrow to invoke Agni so he could consume the magical forest of Takshaka. In the fire, the wife of Takshaka burned to death. Takshaka and his son Ashvasena escaped with some of their clan. Indra, being the friend of Takshaka, got angry about the whole ordeal and came to fight Arjuna directly.
A fierce fight started between the two of them. Indra, being the king of the Devas, used mighty weapons against Arjuna. But Arjuna was actually Indra's son, by the boon he had given to Kunti. Not having any other choice, Arjuna was compelled to fight with the very person who brought him to life. The other four Pandava brothers stood there a bit frightened about the fight and wondered about its outcome. Krishna silently stood there, witnessing it all with a smile.
Arjuna was carefully choosing arrows which would defend him against Indra's weapons. That provoked Indra's anger. As a last resort, Indra used his ultimate weapon, Vajrayudha, the thunderbolt. Seeing this, the Pandava brothers were frozen in place. Draupadi was begging Indra to withdraw his Vajrayudha before it attacked Arjuna. Arjuna respectfully answered with the best arrow from his quiver. The Vajrayudha, with its thundering noise advanced towards Arjuna with immense speed. While everyone watching this, trembling in fear, all of sudden the Vajrayudha was suspended in midair. To everyone's surprise, it was Krishna's Sudarshana chakra that caused this suspension. Krishna called out to Indra to withdraw his weapon. Indra couldn't refuse Krishna's request and stopped the fight with Arjuna.
Arjuna fell to his knees apologizing to Indra and asked for forgiveness for taking up arms against him, his own father. Yudhishthira came forward and explained his plan to rule Khandavaprastha along with Nagas with peace, and that he doesn't have any intention to chase them away. Indra was very happy hearing this and blessed Arjuna and his brothers.
Indra asked Arjuna what he would want from Indra. Per Krishna's advice Arjuna asked Indra to lend Vishwakarma, the divine architect, to build the kingdom and revive the city of Khandavaprastha. Indra immediately called upon Vishwakarma, commanding him to build a beautiful city for the Pandavas. The Pandavas thanked Indra wholeheartedly and promised him that they would name the new built capital city Indraprastha, in honor of Indra.
Seeing all this, the Nagas slowly started to emerge from the forest and came towards Yudhishthira and the Pandavas. Yudhishthira welcomed them with an open heart. The Nagas pulled back the poison they had rendered against the people. Among the demons who came out of the forest was Mayasura. Krishna was sure to kill him, therefore the asura sought protection from Arjuna.
Agni was free to consume the forest without any disturbances. Once Agni's fire ceased, Mayasura thanked Arjuna and agreed to prepare a beautiful assembly hall for the court of Yudhishthira in the new city. He gave Bhima a very heavy mace. To Arjuna he presented Devadatta, a conch whose sound would create terror in the hearts of warriors at any war.
Agni had finally gotten his strength back. He was so grateful and happy for Arjuna's help that he rewarded Arjuna with a bow called Gandiva, along with an inexhaustible supply of arrows, due to the help of Varuna, the God of sea. Arjuna humbly accepted these gifts from Agni.  The city of Indraprastha sprung from the ashes. 
More to come…