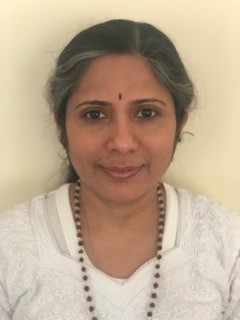 By Nirooshitha Sethuram
Guru Dronacharya was delighted to witness the talent of his pupils. He had spent many years teaching and training the cousins, the Kaurava and Pandava princes. As the Guru of the valiant princes of Hastinapura, he was now living a comfortable life. The entire kingdom of Hastinapura held him in high esteem. Especially Grandsire Bhishma was very cordial to him. He was honored and had been provided with all the facilities.
Despite all this, he was not quite happy. His mind was not at peace. Some pain was there in him, deep down, which kept bothering him. In fact, there was a burning desire to avenge someone. Yes, his bitter past was consuming his present in the form of revenge.
So, who is Guru Drona? What is this revenge that is consuming his heart all about?
Guru Drona was the son of Rishi Bharadvaja. It is said that, one fine day on a riverside, Rishi Bharadvaja saw an apsara (celestial nymph) named Ghritachi. The beauty of her filled his heart with desire and his seed fell into a pot. A baby boy was born from the pot. Drona's name means "a boy who was born in a pot."
Drona spent all his childhood in his father's Ashram. There, he met Drupada, the prince of Panchala. They became the best of friends. Before returning to his palace, Drupada promised he would cherish their friendship forever and give Drona anything he desires, even half of his kingdom. Later Drona went to study under great Parashurama. There he learnt the skills of all of the weapons and gained many powerful celestial weapons too.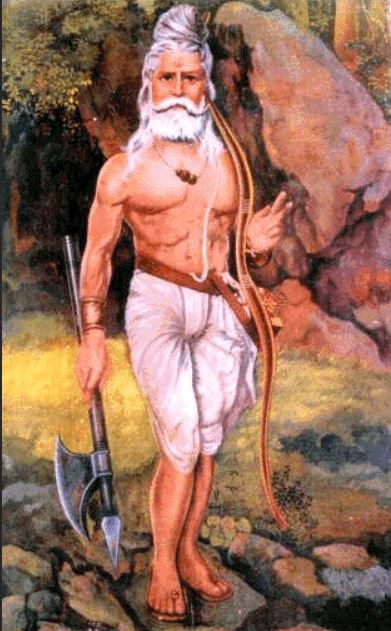 After learning all those great skills, Drona wanted to live a simple life. He was not interested in material wealth, so he soon became poor. He was known as a Brahmin scholar, a renowned master of archery and a great teacher. He married Kripi, the daughter of Sage Shardwan and sister of Kripacharya. They had a son named Ashwatthama. Day by day Drona became very poor and could hardly make ends meet. He would neither beg nor take any charitable donations.
One day while playing with friends, Drona's son Ashwatthama saw his friends drinking a bowl of cow's milk and smacking their lips. Ashwatthama had never tasted cow's milk. He only knew the milk his mother's breasts produced. Now Ashwatthama wanted to taste cow's milk and demanded that he needed it right away.
Kripi tried to console Ashwatthama in many ways without giving him cow's milk but failed. Poor Kripi, helpless and wanting to fulfill her son's desire, mixed flour with water and gave it to him. Not knowing the taste of the milk Ashwatthama was thrilled that at last he got to drink cow's milk. As Drona was watching this, his heart filled with horror and shame. He was shaken by this and was so upset.
He set out of his house determined to earn wealth and glory. Drona wondered where he could go or in which direction to turn? He also questioned his destiny. Suddenly he remembered about his childhood bosom friend & classmate, Drupada, who had now ascended on the throne of Panchala. He also remembered the promise that Drupada gave him before leaving his father's Ashram, that he would give anything that Drona desired.
Drona's face brightened. With great expectations, he sped towards Panchala, the capital city that his dear friend ruled. The journey was troublesome, but the hope he had in his heart made it feel manageable.
After days of traveling on foot, Drona reached Panchala. On the way he built up his expectations so high, he expected that his arrival would be a great function. The news of their king's bosom friend paying a visit will be the news of the kingdom. He was thus expecting a huge welcome before being led to the King ceremoniously.
To his surprise nothing like that happened. The people of Panchala simply ignored him. No one cared for him even when he claimed to be the best friend of their king. They only laughed at his claim, as he was wearing beaten-down rag clothes.
As Drupada was now a king it was not easy to meet him. No one would help Drona either. After several days of efforts, Drona managed to enter the court of king Drupada, his dear friend from school days. So thrilled to see his dear friend, Drona formally introduced himself and began talking about their good old days.
The king Drupada looked at him as if he was any other person, showing no signs of friendship. Drona was shocked and very disappointed, and reminded Drupada of their friendship and all the good days they had together at Drona's father's Ashram. He tried to narrate the stories from the Ashram days, but Drupada said that Drona was merely a classmate. There was nothing more than that, not such a great friendship between them as Drona had put it.
Drona reminded Drupada of the promise he'd made while leaving the Ashram but Drupada laughed sarcastically, saying he didn't remember any of it. Drona was enraged. Still controlling his raging anger, he humbly asked Drupada to help him in his hardship. But Drupada, filled with pride and ego, refused his request and said that he will even give two towns as charity to a Brahmin. Drona says that he had not come there as a beggar, but as a friend and that he would happily accept anything, even a single cow, as the honor of their friendship.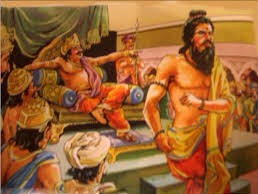 Drupada then insulted Drona by saying, how could a beggar be his friend. Drupada told his soldiers to expel the beggar out of his court. This really enraged Drona. Before leaving the court, he made a declaration that he would come back to the same court and take Drupada's throne, but without using a single weapon. Instead, Drona would use his pupils to defeat Drupada.
Drona's mind refused to be at peace until the betrayal was avenged. All he wanted was to take revenge on Drupada.
Humiliated Drona began to hate the world and decided to renounce the world to become an ascetic. That is when his fate brought him to the grounds of Hastinapura where he met the Kuru princes. Now he had become the beloved and revered Guru of the Kaurava and Pandava princes.
Even with all this glory, Drona's desire for revenge still consumed his heart. He could not live in peace. Yes, the desire to avenge King Drupada was fresh in his mind. Now it was time to act and Guru Drona decided to accomplish this in the form of guru-dakshina.
Once the princes were fully trained, it was time for Guru Drona to ask for his guru-dakshina, the right of the teacher to demand a payment from his pupils. A Guru was entitled to a final payment from his pupil in which he could ask for anything. A true student was supposed to provide whatever the Guru desired as a sacred obligation. We have already witnessed this with Ekalavya.
One fine morning, Dronacharya called all the princes together. Drona said, "I have imparted to all of you the training in various martial skills and the use of weapons. Now it's time for me to ask for my guru-dakshina."
The princes asked Guru Drona what he would like to have as guru-dakshina. Guru Drona said, "Before I became your Guru, I was insulted by King Drupada in his court through no fault of mine. Although he had been my classmate and dearest friend, he humiliated me. I must teach him a lesson. I want him to be presented before me as a prisoner. Can any of you do this for your Guru?"
Arjuna immediately bowed his head to his Guru and with confidence said, "Revered Guru, at your command I will bring any king of this earthly realm to you bound in ropes. I take this as your command!" Hearing Arjuna's words, Duryodhana jumped in, seeking permission from his father King Dhritarashtra to allow him to attack Drupada, to take the pride, as he knew this would weigh in toward becoming the crown prince. With his father's blessings, all the Kauravas under the leadership of Duryodhana attacked Drupada.
King Drupada was all ready for the battle, expecting the Hastinapura army and its 105 princes. He formed his famous Drupada Chakra, a military formation that enemies could not easily escape. He had his eldest born son, Shikhandi, as his commander-in-chief.
Shikhandi is none other than Amba, who reincarnated to fulfill her revenge against Grandsire Bhishma. She was born as a baby girl to King Drupada, the king of Panchala. She was originally named Shikhandini due her female gender. It is said that, when she was a young girl, she wore the garland which hung at the palace door of King Drupada. She had left that garland when she was Amba, before she went into the forest.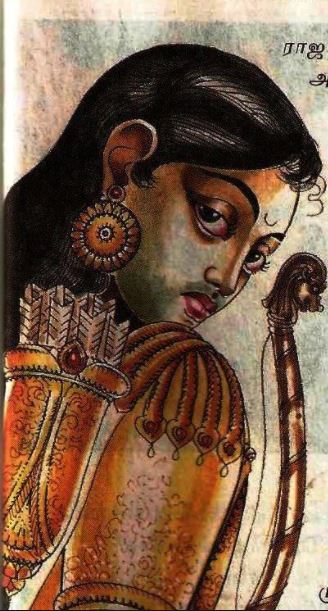 When King Drupada saw his daughter wearing the garland, he became fearful of becoming Bhishma's enemy, so he banished Shikhandini from the kingdom. Shikhandini performed austerities in the forest. She was transformed into a male named Shikhandi, and returned to Drupada with all the glory of her gender transformation.
King Drupada defeated all the Kauravas and Duryodhana easily, with the help of Shikhandi. They captured all the princes and made them their prisoners. While King Drupada was celebrating his victory, one of his soldiers broke the news to him that they had only 100 princes captured, not 105. Then came the Pandavas, led by Arjuna. After a fierce fight, they defeated Drupada and freed Duryodhana and the other Kaurava princes. Arjuna bound Drupada in ropes and brought him to Guru Drona.
At last Guru Drona got his revenge. He set Drupada free, saying that even though Drupada didn't honor their friendship, Drona always did. But Drona retained half of the kingdom that had been promised to him, making his son Ashwatthama its king.
Humiliated, Drupada sought vengeance but realized that he could not match Drona's might, not even with Shikhandi. So, Drupada performed the Putrakameshti Yaj~na, specifically to produce a son who could slay Drona. Also, admiring Arjuna's might, Drupada wanted a daughter who could marry Arjuna.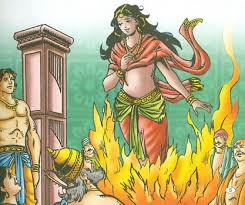 After the successful completion of the yaj~na, the twins Dhrishtadyumna and Draupadi emerged from the fire.  Drupada was so delighted to see his children, were born from the fire.
More to come…