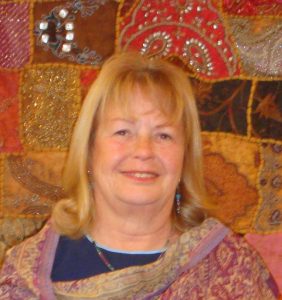 By Mati (Sandra) Gilbert
Food is important. People eat to get nourished and to feel satisfied. Though food can never fully nourish you and fully satisfy you, you try. Yet what is lacking is your own Self for the food that is nourishing to a yogi is to know your own divinity.
You decide whether to pursue excess eating and drinking as well as fighting and the other instinctual pleasures of the world. Animals pursue these activities. What separates you from them is the ability to find and know your own Divinity. Only human beings have the capacity to know the divine Consciousness vibrating within. The study of sutras is one of the yogic practices that moves you toward your Self.
J-naanam anna.m
Knowledge is Food. Pure knowledge is the only real nourishment, that which gives full satisfaction. — Shiva Sutras 2.9, rendered by Swami Nirmalananda
You gain yogic knowledge in order to pursue the bliss of knowing your inherent Divinity. Once you know and abide in the knowledge that you are Divine, you experience the world on a whole new level. You still participate in activities of the world, but those activities do not consume you. You remain established in the knowledge of your Self.
For the last several months, the challenges in my personal life has kept me in a constant turmoil. As a yogi, I had the tools — mantra and meditation — to keep me grounded to some degree. I used those tools but there were periods of time when my personal challenges seemed to win. My small "s" self was powerful.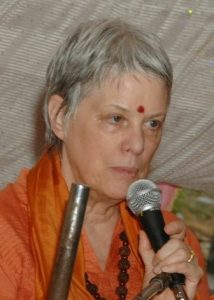 Swami Nirmalananda, my teacher, came to our yoga studio to hold a meditation satsang last month. Just seeing her face made me feel better and more secure. She gave a lecture on the ocean, how both the waves and deep water interact and how they are different. My personal challenges were the waves, which kept me in a constant state of frustration and impatience.
Seeing and hearing the wisdom in her words made me yearn for the deep ocean where it is calm. In this state, I am my capital-S Self: knowing I am more that my current emotional state. I am Divine. Do I lose my Self from time to time? Yes. However, each time is shorter and less stressful. I become more centered in my Self every time I say mantra and meditate. Swamiji's presence and love keeps me more grounded in my Self.
Yes, food is important. It is a way to keep your body and mind healthy. Getting the teachings about the Self truly nourishes your inner yearning. Once I found my teacher, and through the Grace that flows through her to me, I now know I am Divine. And my goal for today and the future is to always live in the knowingness that I am Consciousness-itself. Even though you are always the Self, knowledge of the Self is the rarest of gifts, and it comes only through the Grace of the Guru.