By Nirooshitha Sethuram
King Bhishmaka of the Vidarbha kingdom had five sons and a daughter, Rukmini.  She was an incarnation of Lakshmi, who was very pretty from childhood and grew up to be a beautiful and graceful princess.  The kings and the princes used to visit Vidarbha to win her heart.  But her heart desired the one and only Krishna.
Rukmini was very impressed by the stories about Krishna she heard while growing up, especially from her grandfather and others who visited her.  She made a special place in her heart for Krishna, fell in love with him and vowed to marry none other than Krishna.  When she grew up a marriageable age, she refused to accept anyone else in all the worlds in marriage.  She had placed Krishna as her mate in her heart.
Rukmini's parents also welcomed the idea of having Krishna as their son in law.  However, Rukmini's eldest brother, Rukmi, did not approve of this union.  He was friends with other kings including Shishupala and Jarasandha who considered Krishna to be their archenemy.
Rukmi was an arrogant and ruthless prince.  He convinced, rather threatened, his father Bhishmaka, and arranged for Rukmini's marriage to his dear friend Shishupala, the king of Chedi, a cousin of Krishna.  Bhishmaka knew Rukmi for who he was, thus agreed to this marriage with a heavy heart, both for the sake and safety of his people.  Bhishmaka knew Rukmi would overthrow him with no regrets and harm the people of Vidarbha with his selfish agenda.
Hurrying to get the marriage to happen, Rukmi directed the royal priest to find the earliest auspicious date for the marriage.  The date was fixed and Shishupala was formally invited to come with his royal entourage to Kaundinyapur, the capital city of Vidarbha, to marry Rukmini.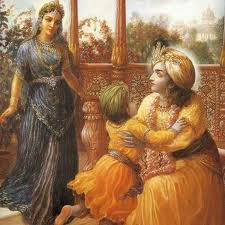 Who is Shishupala? Shishupala was born to Damaghosha, the King of Chedi and his wife Srutashrava.  Srutashrava was one of the sisters of Vasudeva, Krishna's father.  Shishupala was born with three eyes and four arms.  His parents were horrified and scared.  They decided to cast him out but they were warned by a voice not to do so, as his time had not come.  The voice also said the child will be superior in strength and that his redundant body parts would disappear when a certain person took the child into his lap.  The voice warned that the very same person would also be the cause of his death.
Once Krishna and Balarama visited their aunt Srutashrava.  While playing, Krishna placed little Shishupala on his lap and the extra eye and arms disappeared.  Remembering the voice, she knew that Shishupala's death would happen by Krishna's hand.  She persuaded her nephew, Krishna, that he would pardon his cousin Shishupala for his first hundred offenses.
Shishupala had a cousin named Dantavakra.  The two of them were the third incarnations of Jaya and Vijaya wherein they had to be enemies of Lord Vishnu.  This was so they could get back to Vaikuntha to be the gatekeepers of Lord Vishnu again.
At first Rukmini was horrified and devastated to hear the news that she was to be married to Shishupala, due to her brother's arrangement.  She pleaded with her father and all of her brothers, but none could and would help her by speaking against Rukmi.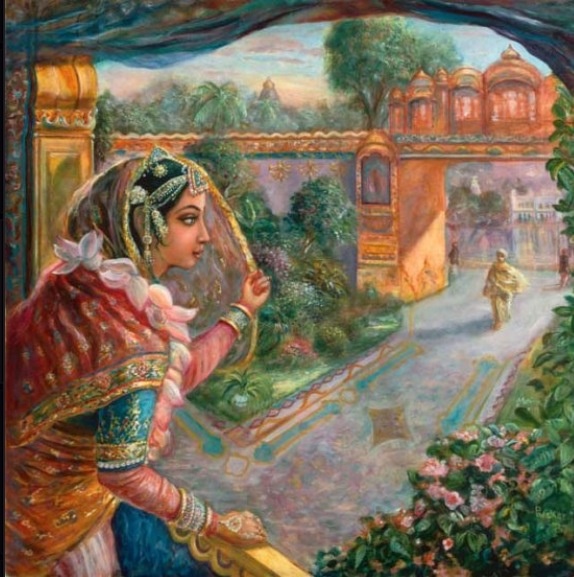 Her love for Krishna made Rukmini bold, breaking her natural tendencies of being a noble, well-natured princess.  She sent a confidential messenger, a Brahmin priest who she trusted very much, with a letter from her to Krishna.  The letter described the whole situation and revealed her love and affection to Krishna, as well as and how her brother Rukmi was forcing her to marry Shishupala, whom she detested.  She pleaded with Krishna to save her honor by abducting her in a rakshasa style marriage.  Otherwise, she threatened in the letter that she would take her own life.  She then waited, spending days and nights yearning and longing to be with Krishna.
The Brahmin priest reached the gates of Dwaraka soon and was presented in front of Krishna without any delays.  Krishna received the message.  Reading Rukmini's heart-felt plea to rescue and marry her touched his heart.  He too fell in love with Rukmini.
Krishna immediately called upon his charioteer to get his chariot prepared for the journey.  He set out on the mission to rescue Rukmini, taking along the Brahmin priest.  As soon as they reached the outskirts of Kaundinyapur, he sent the Brahmin priest to Rukmini to deliver his reply.  In his reply, he assured that he would rescue her from her evil brother and his conspiring friends, even if he had to battle against the combined forces of those evil plotters.
Soon after Krishna's departure, Balarama returned home from an errand.  Learning about Krishna's mission to rescue Rukmini, Balarama was not happy about Krishna leaving without his knowledge.  Even more, he was not happy with hearing who Krishna was preparing to fight.  Sensing trouble, he gathered a huge army of Yadavas to aid Krishna and rushed to Kaundinyapur.  Balarama and the army reached Kaundinyapur at about the same time as Krishna did.
Even before their arrival, Shishupala had arrived along with his royal friends and their armies.  His friends included Jarasandha, Shalva, Paundraka, Dantavakra and Viduratha, among others.  Their armies made a huge combined strength.  They were welcomed in a grand procession by the Prince of Vidarbha, Rukmi.  The streets were decorated beautifully with flags and garlands.  The citizens of Vidarbha were all on the streets wearing their best dresses celebrating the day of their beloved princess' wedding, even though they were not so happy about whom she was marrying.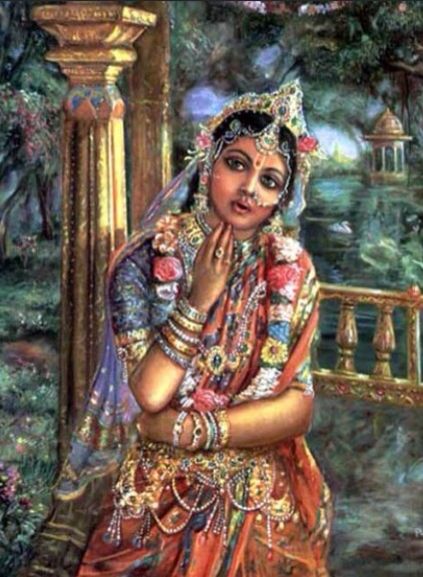 Rukmini was desperately waiting through the night, as the next day would be perhaps the last day of her life.  She was looking out for the messenger to arrive while praying intensely.  Morning dawned with no sign of the Brahmin priest.  While she was praying, she experienced her left arm, eye and thigh throbbing, which was a sure sign of good fortune.  As this was happening, the Brahmin priest arrived with the great news from Krishna.  The assurance of Krishna came as a huge relief to Rukmini who hadn't heard anything from Krishna until then.  She worried no more.
Later that morning, Rukmini went to worship the Divine Mother at the Goddess Gauri temple, where Krishna was to kidnap her as planned.  The temple was situated outside the town.  She was in a procession accompanied by her friends and maids, per the custom that the bride visits the temple on the day of her marriage ceremony.  Her mind was absorbed on the thought of meeting her beloved Krishna for the first time.  At times, she was questioning her own self, doubting herself to be worthy of, or thinking she was not good enough for Krishna.  Yet love conquers all.  Her heart was filled with joy and gratitude to Goddess Mother for this blessing.
The message about her being on her way to the temple was relayed to Krishna, who had signaled back, confirming his arrival at the temple to Rukmini.  He was waiting at the back of the temple with his chariot.
Rukmini followed the purification rituals of washing her hands, feet and sprinkled water in her head.  Observing the vow of silence, she entered the shrine and prayed to the Mother of all, surrendering herself and asking for blessings from the Goddess for her marriage to Krishna.  After worshiping, Rukmini emerged from the temple and lifted her veil.  There he was!  Her sight landed on Krishna, to whom she lost her heart forever.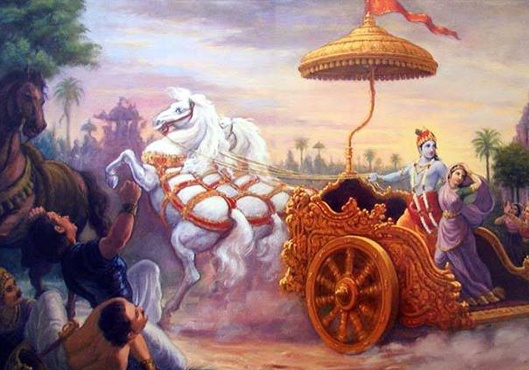 Krishna was seated in his chariot, smiling tenderly at her.  Rukmini walked directly towards Krishna and allowed herself to be lifted and placed on the chariot.  Krishna gently seated her next to him, giving her the rightful place, the place for a wife, in full view of everyone watching, including Rukmi and the other kings.
Krishna then whipped up the horses and drove away the chariot.  The maids of Rukmini pretended to be in horror and freight, as they knew the plot and put on an act of being bewildered while being filled with joy inside.  Everything happened within a few seconds, with Rukmi and his friends being in shock and surprise.  They were beyond furious that Krishna and Rukmini had tricked them.
The abduction of Rukmini from right under their noses, like a lion lifting its prey from the midst of jackals, charged up Shishupala and his friends.  They rushed up to catch up with the fleeing Krishna.  Rukmi, his brothers and their soldiers also joined the chase.  Jarasandha, seeing Krishna alive and well, couldn't be angrier.
All their efforts to catch the couple were stalled by mighty Balarama and his enormous Yadava army, who were waiting a small distance outside the town.  Balarama ordered his soldiers to cover and attack the enemy forces, giving time for Krishna to get away.  A fierce battle raged.  Yadava archers were fully prepared and rained huge stocks of arrows towards their opponents.
But the forces of Jarasandha and Shishupala had to counterattack without much preparation.  That cost them dearly; very soon they gave up.  They had already suffered heavy losses, so they ordered their soldiers to stop the battle and retreat.  The forces fled the battlefield to save their lives.
Rukmi did not like the idea of accepting defeat.  Ridiculing his friends, he went after Krishna alone.  Rukmi was in a deep revengeful mood, taking a vow not to return to the capitol without his sister.  He somehow managed to escape Balarama and caught up with Krishna's chariot in no time.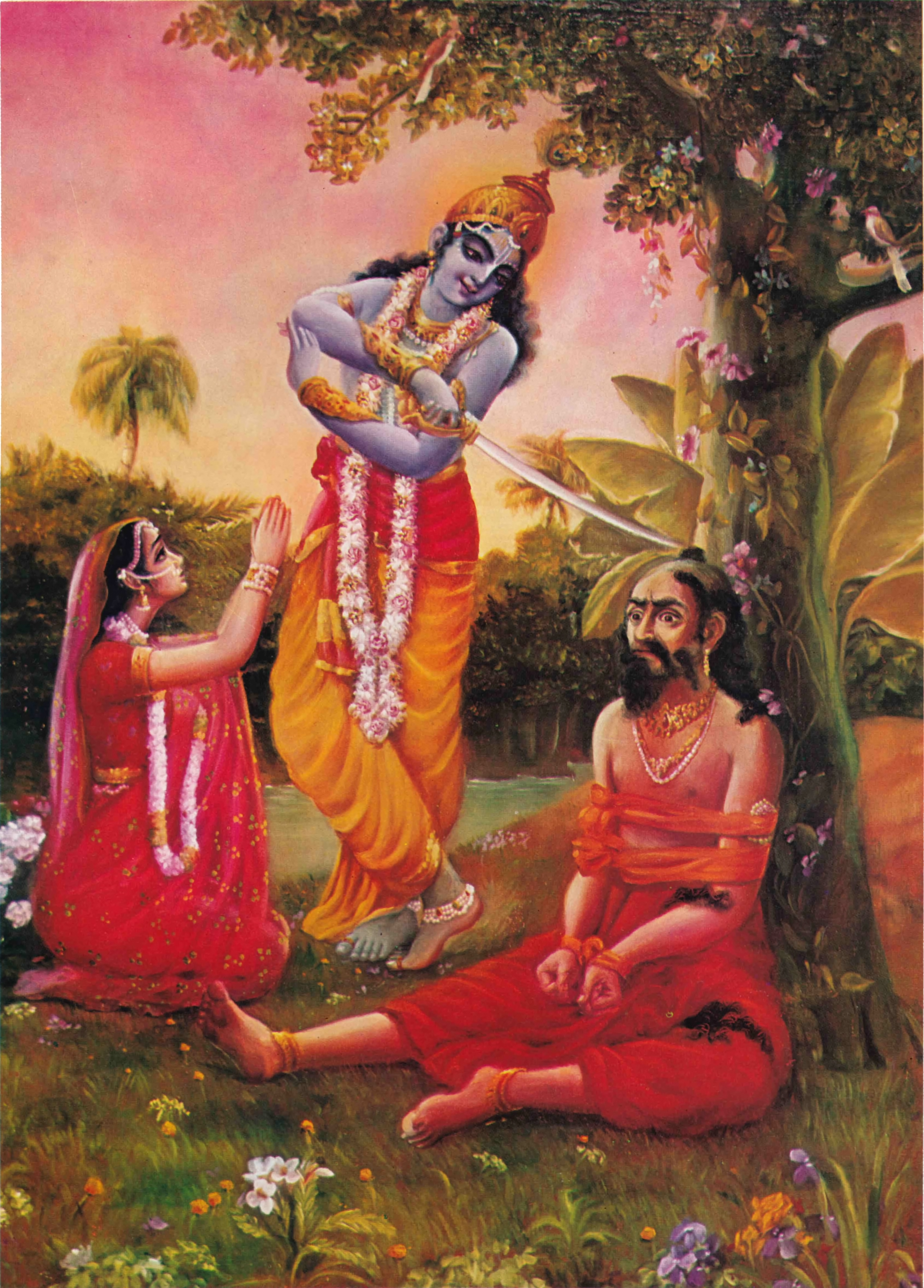 Krishna did not want to fight with him.  But when Rukmi started insulting Rukmini with abusive words, Krishna had to pick up his bow and arrows.  In no time he brought down Rukmi's chariot horses and charioteer.  Rukmi came crashing to the ground and got injured.
Krishna jumped down and got hold of Rukmi.  Seeing Krishna's anger towards her brother made Rukmini interfere, begging for mercy on behalf of her brother.  Krishna was taken by his beloved Rukmini's plea, so he cut patches of Rukmi's hair, moustache and beard with his sword, disfiguring Rukmi's appearance to teach him a lesson.  This was a great insult to a prince, worse than death.
Balarama caught up soon with them, but wasn't too happy about Krishna's decision to insult Rukmi, as Rukmi was now their own relative.  Krishna smiled at Balarama in an ironic manner, as he knew what was going to happen to Rukmi in the hands of Balarama in the future.  As Rukmi had taken the vow that he wouldn't return to the capital if he failed to free his sister from Krishna, he went to a place called Bhojakata.  He lived there with vengeance, vowing to kill Krishna.
Krishna and Balarama retuned to Dwaraka with Rukmini.  Later, Krishna duly married Rukmini in a grand ceremony with proper custom and traditional rituals, with the blessings from both their parents.  The royal families of Kuru, Kekaya, Vidarbha, Kunti and Sarunchaya attended the wedding and blessed the couple.
More to come…