By Nirooshitha Sethuram
"Vaikuntha" is the abode of Lord Vishnu. Jaya and Vijaya are the two doorkeepers guarding the seven doors of this Divine Realm. They love Lord Vishnu and feel honored to be serving him. They take their job very seriously, making sure Lord Vishnu's time is spent on matters that need the most attention and assistance.
Many come to pay respect & worship Lord Vishnu, so Jaya and Vijaya make sure no one wastes Lord Vishnu's precious time, so that he can help the ones in real need. No one is allowed through the seventh door of Vaikuntha without Jaya's and Vijaya's approval.
One day, as Jaya and Vijaya were standing on guard at the seventh door of Vaikuntha, they saw four children coming. Jaya and Vijaya were mystified, as they have seldom seen children visiting the Vaikuntha in all their years guarding the doors. It was very rare. Jaya and Vijaya talked among themselves and decided that it will be a waste of Lord Vishnu's time to see these children. They didn't want the children to bother Lord Vishnu.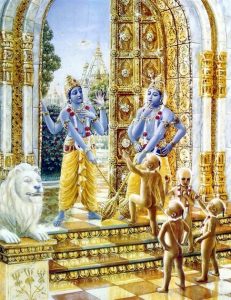 The four children came to the doors of Vaikuntha, passing through the first six to arrive at the seventh, only to find two gatekeepers with four arms and red eyes stopping them. The youngest said, "Open up! We want to see the Lord." Jaya shook his head and said, "Children, please do not disturb the Lord. He is not available at the moment. You go and play somewhere else."
Another child burst out, "You think we are children! We are not children." Though Vijaya was a bit confused, now in some doubt, he resolutely shook his head as he'd decided earlier with Jaya. He said as kindly as possible, "The Lord is very tired. He is resting. Please come some time later."
The expression in the children's faces went from bad to worse, so Jaya and Vijaya were a bit scared that the children might be some high sages in disguise. The oldest of the children, said "Do you know who we are?" Continuing without waiting for an answer, he said, "I am Sanaka; he is my younger brother Sanatana…" pointing to the one who was quietest of them. "And these are Sanandana and Sanatkumara, my youngest brothers." pointing to the ones who had spoken earlier.
Hearing this and realizing who these four children were, Jaya and Vijaya were very upset about refusing passage to them through the seventh door. "You are the four Kumaras, the sons of Lord Brahma," they said faintly, kneeling before the four children. "We apologize for our behavior. We mistook you for some mischievous children."
The four were far from relenting. Sanatana spoke, breaking his silence, "You close the door of the Lord to devotees like us. We pray to him all the time. Lord Vishnu is always available for us. You said he is not available!" Sanatkumara interrupted his brother, saying, "We curse you for this." Trembling, Jaya and Vijaya said, "Please do not curse us, we did this unintentionally, not knowing who you were!"
Hearing the raised voices outside the door, Lord Vishnu came to the door accompanied by His Consort, Goddess Lakshmi. He saw His doorkeepers kneeling at the feet of the four children of Lord Brahma, with Sanatkumara completing his curse, "You will no longer be the doorkeepers for Vaikuntha. You will be sent away from Lord Vishnu, for not letting His devotees see the Lord!"
The Lord looked at Jaya and Vijaya with empathy, while they were kneeling silently, not knowing what to do. The four children of Lord Brahma bowed, worshipped Lord Vishnu and Goddess Lakshmi. They said that they would lift the curse which they had cast it in haste. But Lord Vishnu said that this curse is going to bring a greater good, not only to Jaya and Vijaya, but also to the three worlds.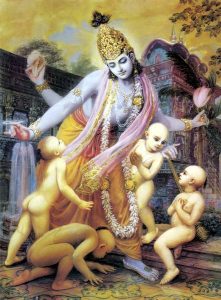 Lord Vishnu turned to Jaya and Vijaya, finding them sobbing without control. Vijaya looking at the Lord says, "We don't mind any curse, but we cannot bear being separated from you. Please, Lord do something!" Lord Vishnu was touched by their great devotion and decided to give them two choices. He said, "Either you can take seven births on earth as my devotees…" Vijaya jumped in looking horrified, "Seven births? You mean, we can't see you for seven births. No, no, please Lord… No!"
Lord Vishnu continued "…Or take three births as my enemies." Jaya said in a whisper, "As your enemy? Oh, My Lord! How can we even think of not liking you, let alone being your enemies?" Lord Vishnu looked at them with a grace-filled smile.
Jaya and Vijaya looked at each other, then said, "We can't part with you for seven births. Se will take the option of being born three times, so that we can come back to you sooner." Lord Vishnu laughed and said, "Don't you know that everyone thinks of their enemies more than their friends and dear ones? So, you will be thinking more about me when you are born on the earth. I will incarnate on the earth to give you moksha, my dear friends."
Jaya and Vijaya were first born as the brothers Hiranyakashipu and Hiranyaksha, to sage Kaasyapa and his wife Diti. Through his wisdom & knowledge Kaasyapa discovered that these brothers, who were conceived at an inauspicious time by Diti, were going to be evil. Coming to know this terrible truth, Diti held them in her womb for a very long time until she came to know that Lord Vishnu would come to save the three worlds from her evil sons.
Meanwhile, the earth was not in a good state; the people on the earth were in turmoil all the time, fighting with each other, using devastating weapons that harmed Bhumata (Mother Earth) very much. Bhumata prayed to Lord Vishnu to come and protect her and the good people on earth. The great sages on the earth also realizing the damage that was being done, so they performed great yaj~nas (Vedic fire ceremonies), specifically to please Lord Vishnu.
Hiranyaksha, elder of the brothers, wanted to become the most powerful on earth, and performed severe austerities while praying to Lord Brahma. Happy with Hiranyaksha's devotion, Lord Brahma appeared before him and granted that he not be defeated or killed by any humans or devas (gods). Powered by this boon, Hiranyaksha tormented everyone on earth, as well as the devas.
Finding that some devas were still powerful, he decided to weaken them by hiding the Bhumata, the source of their power, by using "the āhuti," offerings and sacrifices by the earthlings. He used unimaginable weapons of great power, making Bhumata slip from the axis. With Bhumata off the axis, he hid her where no one could find her.
The devas, now disconnected from the earth, were greatly weakened. Knowing this, Hiranyaksha challenged them all, defeating them one by one. At one point, he came to Varuna (Lord of water), calling upon him for a fight. Seething with anger, Varuna knew he could not defeat Hiranyaksha, so he said, "Son, I am very old and therefore will not be a good match for you. You need to go and fight Lord Vishnu!" When he heard Lord Vishnu's name, Hiranyaksha felt strange. However, as he did not remember who he was, he just nodded and decided that Lord Vishnu was the best person to defeat.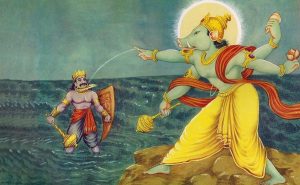 Hearing Bhumata's distressed cry to be rescued, Lord Brahma decided to seek Lord Vishnu's help to rescue her from Hiranyaksha. He thought, "Lord Vishnu brought me into existence, so He would be the one to rescue Bhumata." As he started praying and meditating for the assistance of Lord Vishnu, a tiny Varaha (boar) emerged from the nostril of Lord Brahma, soon to grow to a size of a huge mountain. Brahma at once was grateful to Lord Vishnu for taking this incarnation for the greater good. The Varaha started its journey towards the depths of the worlds to find where Hiranyaksha was holding Bhumata hostage.
As he approached Hiranyaksha, Lord Vishnu smiled, realizing that Jaya's first birth caused by the curse was coming to an end. To Hiranyaksha's astonishment, the huge Varaha dived and took Bhumata from where Hiranyaksha had hid her. Hiranyaksha chased the Varaha, challenging it for a fight. The Varaha ignored Hiranyaksha, running faster and faster with Bhumata to place Her back on Her axis. Bhumata thanked Lord Vishnu, knowing that it was He in the form of the Varaha.
The Varaha turned towards Hiranyaksha and looked at him so furiously, that Hiranyaksha was momentarily was terrified. The Varaha and Hiranyaksha fought each other, but this time Hiranyaksha had met his match. The Varaha fought brutally, managing to go past all the defenses of Hiranyaksha. Hiranyaksha was getting weak and was nowhere close to defeating the Varaha.
Hiranyaksha looked at the Varaha. The Varaha seemed to be looking at him lovingly. "Why would the boar look at me lovingly?" Hiranyaksha thought, but he charged at the Varaha again. The Varaha easily deflected his attack and pushed him away. With all his strength lost, Hiranyaksha, got the final blow from the Varaha.
As Hiranyaksha was taking his last few breaths, by the grace of Lord Vishnu, he remembered who he was and realized that Lord Vishnu has come in the form of a Varaha as he promised at the doors of Vaikuntha. With his last breath, Hiranyaksha (Jaya) thanked Lord Vishnu for finishing his first birth on earth.