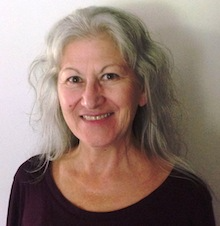 By Mangala Allen
What better time to begin doing something to enhance your experience of life? Of all the things I have tried in my life, yoga sustains me like nothing else. My yoga practice keeps me steady and even-tempered on the inside as I navigate the busy world around me. Ever since yoga found me, my life has been getting better and better.
Some people are drawn to yoga for help with physical, mental or emotional discomfort. Some are looking for meaning in their life. Whatever you want, yoga gives you more than you could ever imagined. This is because you are more than you think you are. And more than you imagine yourself to be.
Yoga mystical effect is the revealing of your Self to yourself.  It has a way of peeling back the layers of self-doubt and fear to uncover a vibrant, radiant you.  The ancient sages guarantee this by their insights, their teachings and their blessings to us.  But you have to do your part!   Swami Nirmalananda describes this:
Harness the power of your own will – choose to grow and change.

You must make an effort or it will not happen.

The time is now.
Most people think of yoga as the athletic practice of poses. It offers many types of physical practices.  Some are fast or hot, and may twist you into a pretzel. Others are slower and you use props in the poses, like chairs, blocks and blankets. The yoga style I practice and teach is based in spinal decompression, making me able to release and lengthen the muscles attached to my spine. Svaroopa® yoga's spinal release allows my spine to be supple. It heals what ails me and improves my ability to move through my day and my life with ease.
Yoga's transformation happens on the physical level, but also through every level. As the poses relieve tensions, aches and pains, you find your mind calm. As your mind becomes calm, you are no longer taunted by the memories and anxieties that have nagged you for so long. You begin to find time in your life to pause and breathe.
Yet yoga promises even more. Yoga promises you will know yourself as the vibrant, radiant being that you really are.  Your essence shines from a deeper level within, drawing you toward meditation.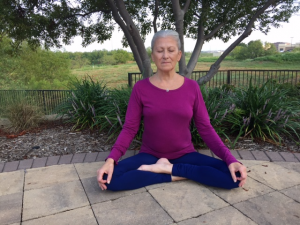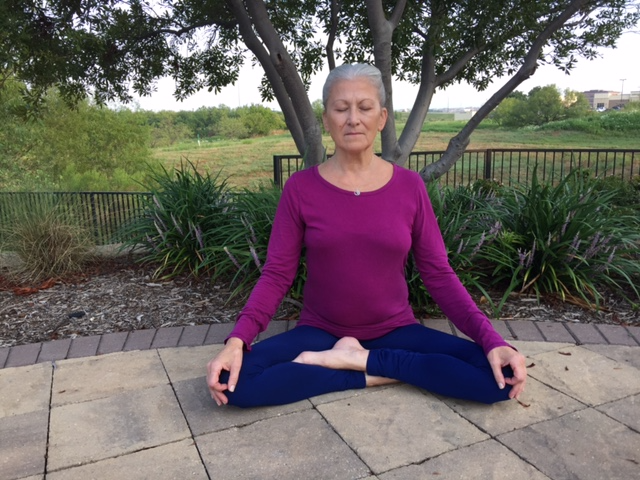 Learning the poses from a teacher makes them easier.  In the same way, the meditation I have learned from Swami Nirmalananda is easy. From the beginning, it is deep and blissful. Svaroopa® Vidya Meditation gives me the experience of my own vibrant radiant me, so I can shine my light into the world. My life is beautiful.
Something happens when you begin to practice yoga. It draws you in and changes you. You look at everything anew. It gives me more and more. My life has been yogified and I bask in the glow.  Step into yoga. The time is now!
OM svaroopa svasvabhava namo nama.h
To your Inherent Divinity, again and again I bow.