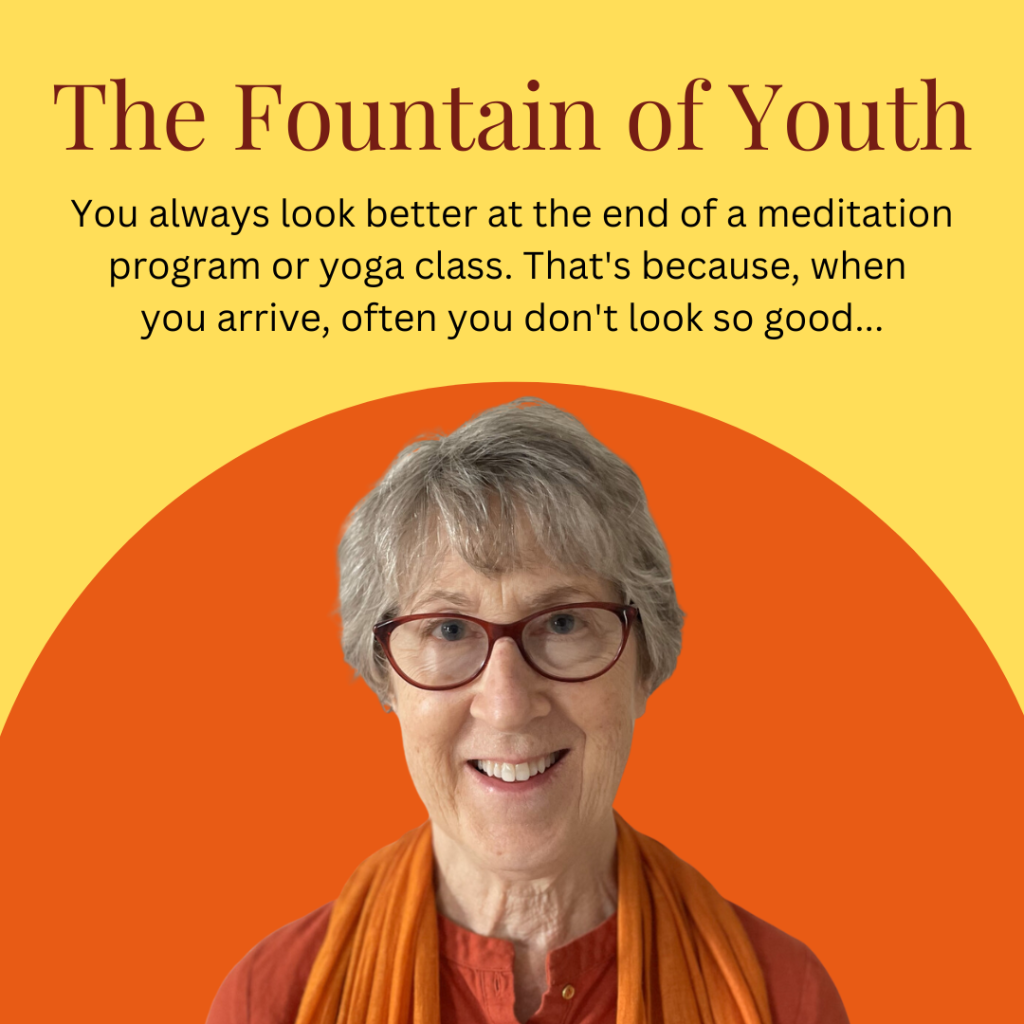 By Swami Shrutananda
You always look better at the end of a meditation program or yoga class. That's because, when you arrive, often you don't look so good. Perhaps your skin is ashen and dry. Or your face, your neck and shoulders are crooked – even your gait. You may look anxious and worried, the outside showing what you feel like inside.
All this makes the light in your eyes dull and your face wrinkled. Instead of skipping though life, you may be limping along.
I watch people come in for yoga classes and meditation programs. They limp in. They skip out. It's completely reliable. 

— Gurudevi Nirmalananda, Changing Your Future, Teachings Article, April 2023
In the 16th century, explorers looked for the Fountain of Youth to feel young and more alive again. Yoga is the Fountain of Youth. I love watching you during your yoga class or meditation program. When it ends you look younger. Your spine has lift. Your face softens as your wrinkles melt away. You have color in your face. More light shines through your eyes. You look radiant and you feel full of life.
I went through this too. Before yoga, I was getting physical therapy for a neck & shoulder injury. Unfortunately, it was not taking care of my pain. Then I started yoga. My spine lifted and lengthened. My pain lessened as my shoulders, neck and head moved back in line with my spine. As I did more yoga, I felt better and better.
Then Gurudevi taught me to meditate. I felt even better. The pain in my neck completely went away. My body was more fluid, and my mind was sharper and clearer. I had more energy. I felt younger and more alive.
How does this work? Yoga and meditation ignite your own healing power. Through these practices, the energy that was trapped by your spinal tensions begins to flow. This energy is yoga's fountain of youth. When this energy is flowing through your spine, you get younger. Simply look in the mirror. This energy enlivens your body, your mind, your heart, and your life.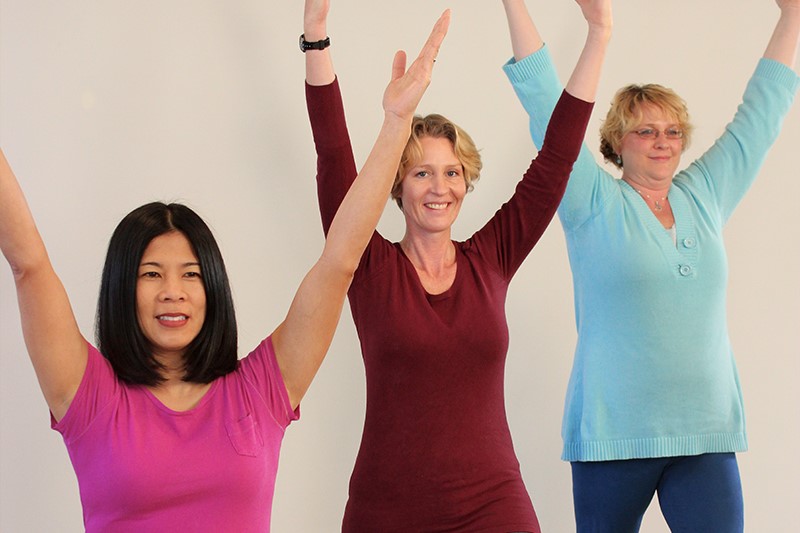 Where does this energy come from? Your own Self. From your yoga practice you deepen more and more into the source of youth – your own Self, your own Divine Essence. This is the mystery and the majesty of yoga. As you deepen within, your own mystical energy flows stronger and stronger through your spine. Along with being enlivened and youthened, you have access to deeper, richer and more profound experiences of your own Beingness.
You feel younger when you are more your Self. This is because your own essence that is arising is ever young. It is the eternal. Yet your body does have a limited life span. Tick, tick, tick. It means that the time is now! Do more yoga and to deepen into your own Self while your body and mind can respond.
In a Teacher Training program, a middle-aged student was frustrated with another student who often distracted the group with her antics. At one point the frustrated student said, "You are younger. I am older. I have less time left to deepen into these teachings." The younger yogi got it.
Unfortunately, the frustrated teacher had less time than she thought. A few years later she was diagnosed with cancer and died. How much time do you have left? Nobody knows. How do you want to spend your time?
The poet Bhartrihari warns:
I thought I was enjoying sense pleasures;

I did not realize they were enjoying me.

I thought I was spending time;

I did not realize it was spending me.

— Bhartrihari Vairaagya Shataka, verse 7
The reality is you always find time for what you really want to do. If you want to feel better, you can make time for it. It means that you miss out on another opportunity. You can't do everything. Are you choosing to get old – or young? Are you choosing to be peace-filled – or anxiety filled? What you choose determines what you will get. It is a personal choice. To be young and vitally alive, as well as to deepen into the eternality of your own Beingness, do more yoga.